Become a
Python Developer
Learn to create powerful yet user-friendly computer applications and websites using the Python programming language. Some of the biggest companies in the world use Python to build web apps, analyze data, automate operations via DevOps and create reliable, scalable enterprise applications. Typical duties of a Python Developer include:
Develop, implement and debug projects.
Design the framework for the code.
Build your own programming tools.
Create websites and publish new services.
Integrate applications with third-party web services.
Work in a development team.
Accelerate Your Career This Year
Start Your Application
6 month At 6 hrs/week
253 Lessons
158 Hours
In Collaboration with

Pinpoint Forecast for a Python Developer
Winning in the Job Market
The Python programming language has been around for a long time and is seeing a resurgence of adoption with the increased focus on AI and Machine Learning. Many large companies use Python in their technical arsenal of systems and websites. Job growth for software developers in general is expected to expand 22% in the next ten years, and web development jobs will grow 13% in the next five years. Python has become increasingly popular in the software industry because of its flexibility to support web apps, data science, and machine learning.
Who's Hiring Right Now






$88,000
$101,000
$113,000
Average Python Developer salary
In the United States of October 2020
Junior — $88,000
Middle — $101,000
Senior — $113,000
Highway to Your Future
Python Developer
Acquire the skills to design, develop, implement and maintain Python-based programs and applications. Create business applications for a variety of enterprises, including global financial institutions, large tech companies, and government agencies.
Be on the cutting edge of systems designed for Artificial Intelligence and Machine Learning. Use analytical skills to understand multi-process architectures, data science, and object relational maps.
Your Learning Track (253 videos 76 hours)
JavaScript, Part 1 of 6: Fundamentals

15 videos

JavaScript, Part 2 of 6: Objects, Arrays, and Expressions

5 videos

JavaScript, Part 3 of 6: Functions

4 videos

JavaScript, Part 4 of 6: Object Constructors

3 videos

JavaScript, Part 5 of 6: Web

6 videos

JavaScript, Part 6 of 6: Objects

4 videos

Python 3, Part 1 of 6: Getting Started

8 videos

Python 3, Part 2 of 6: Statements

6 videos

Python 3, Part 3 of 6: Data

12 videos

Python 3, Part 4 of 6: Functions and Classes

15 videos

Python 3, Part 5 of 6: Programming Tools

4 videos

Python 3, Part 6 of 6: Modules, JSON, and Algorithms

8 videos

Python Web Programming

16 videos

Python Web Programming, Part 1 of 4: Object Oriented

3 videos

Python Web Programming, Part 2 of 4: Web Structure

4 videos

Python Web Programming, Part 3 of 4: VPS and MySQL

5 videos

Python Web Programming, Part 4 of 4: Create a Website

4 videos

Django for Python Developers

30 videos

Django for Python Developers, Part 1 of 8: Basics and Setup

3 videos

Django for Python Developers, Part 2 of 8: Templates and Models

5 videos

Django for Python Developers, Part 3 of 8: ORM and Forms

4 videos

Django for Python Developers, Part 4 of 8: Model Forms and Views

4 videos

Django for Python Developers, Part 5 of 8: Class-Based Views and Templates

3 videos

Django for Python Developers, Part 6 of 8: Session Management and Middleware

4 videos

Django for Python Developers, Part 7 of 8: Security and ORM Relationships

3 videos

Django for Python Developers, Part 8 of 8: Clinical Data Reporting

4 videos

Flask Framework for Python Developers

15 videos

Flask Framework for Python Developers, Part 1 of 3: Get Started

4 videos

Flask Framework for Python Developers, Part 2 of 3: Database and Migration

4 videos

Flask Framework for Python Developers, Part 3 of 3: Create an Application

7 videos

Advanced Python Web Dev Using Flask

37 videos

Advanced Python Web Dev Using Flask, Part 1 of 9: Get Started

4 videos

Advanced Python Web Dev Using Flask, Part 2 of 9: User Registration

4 videos

Advanced Python Web Dev Using Flask, Part 3 of 9: Profiles

4 videos

Advanced Python Web Dev Using Flask, Part 4 of 9: Passwords

4 videos

Advanced Python Web Dev Using Flask, Part 5 of 9: Images

4 videos

Advanced Python Web Dev Using Flask, Part 6 of 9: Start Relationship App

4 videos

Advanced Python Web Dev Using Flask, Part 7 of 9: Testing and Sidebar

4 videos

Advanced Python Web Dev Using Flask, Part 8 of 9: Feed Form and Messages

4 videos

Advanced Python Web Dev Using Flask, Part 9 of 9: Comments and Friends

5 videos

RESTful API Design Using Python Flask

13 videos

RESTful API Design using Python Flask, Part 1 of 3: Get Started

4 videos

RESTful API Design using Python Flask, Part 2 of 3: CRUD and Authentication

4 videos

RESTful API Design using Python Flask, Part 3 of 3: Update and Testing

5 videos

Docker for DevOps

25 videos

Docker for DevOps, Part 1 of 6: Get Started with Docker

4 videos

Docker for DevOps, Part 2 of 6: First Docker App

5 videos

Docker for DevOps, Part 3 of 6: Staging Server

4 videos

Docker for DevOps, Part 4 of 6: systemd

3 videos

Docker for DevOps, Part 5 of 6: Create Production Server

6 videos

Docker for DevOps, Part 6 of 6: Backups and Upgrades

3 videos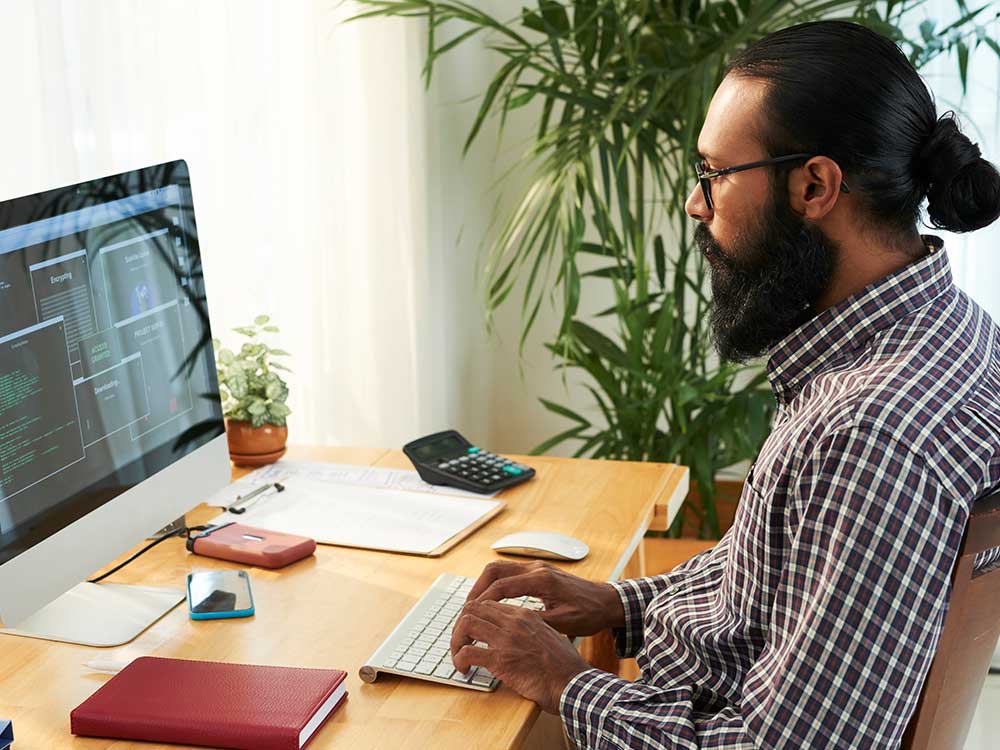 Services for Success
Mentor support
Real-world projects from industry experts
Project feedback from working professionals
Interview preparation
Resume services
Pathway to Your Dream Job
Modern courses and learning activities in state-of-the-art technologies prepare you for your new career. An extensive video library forms the heart of the training process, supported by an automated Learning Assistant and a personal Career Advisor to help you achieve certifications and core competencies.
An internship provides hands-on, real-world practice using your newly gained skills on projects defined by industry experts, adding practical experience to your resume. Labs, periodic Master Classes, and access to an Online Professional Community allow you to solidify your technical expertise.
Take advantage of job acquisition services, such as Resume Creator and Online Reputation Builder to boost your search for your dream job. An Interview Coach prepares you for that crucial interaction with targeted employers, giving you a head start over the competition.
Arriving at Journey's End
Learn
As a Python Developer, you will learn advanced techniques and tools, using models and templates to build functions, objects, and algorithms to create powerful web applications and systems. Your toolbox will include JSON, VPS, MySQL, Django, and Flask to develop cutting-edge apps that incorporate Artificial Intelligence and Machine Learning.
Average Time
On average, successful students take seven months to complete this program.
Benefits Include
Built-in Learning Assistant keeps you on track and on target
Real-world projects from industry experts put you in the fast lane
Technical mentors accelerate your progress
Personal career coach and services help you cross the finish line
Stay Sharp While Staying Safe
Financial support is available to put you on the road to success
Learn new, high-paying job skills from home at your own pace
Take the fast track to a brighter future by learning today
Checkout Now

- OR -
Buy now, pay later

Buy now, pay over time with PayPal Credit,
and get 6 months special financing.
Do you have a promo code?
We built RemoteMode so that you can build a life you want. Join us!