RemoteMode Launches Dashboard to Improve Students' User Experience and Achieve Higher Completion Rates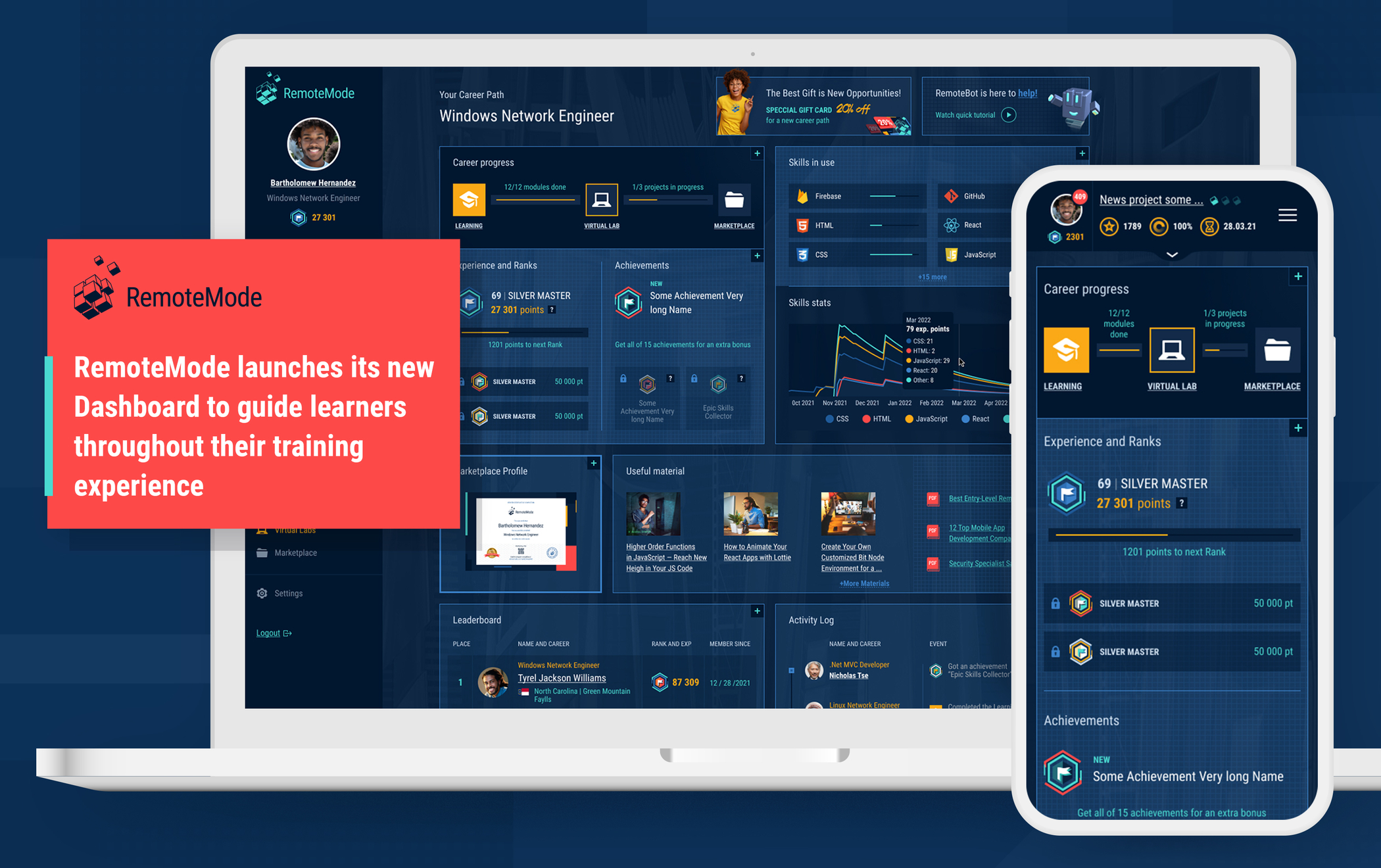 Greater Boston, МА, May 17, 2021 (Newswire.com) -- RemoteMode, the online training company specializing in preparing people for a career change in a wide range of remote jobs, is excited to announce the initial launch of Dashboard. This new tool for RemoteMode students guides the learners through their entire training and career preparation process. The Dashboard implements unique gamification strategies to inspire learners to achieve excellent results. This gamification approach to learning sets RemoteMode apart from other training companies.
Enhancing RemoteMode's step-by-step career training paths, the Dashboard informs the learners of their current state of progress as they earn achievement badges and raise their skill ratings. The Dashboard also advises them about the next steps for advancing toward certification and preparing for employment. This compelling new addition to the RemoteMode arsenal of educational solutions is another step in the company's commitment to exceptional training and career preparation.
The Dashboard also provides students with lists of eBooks, research articles, and other resources available for download as they move through their studies and career preparation plan. These materials supplement the professionally produced online video courses that are the heart of the training, as well as provide valuable information for the Virtual Lab projects that the students complete as their hands-on capstone learning experience.
Simultaneous with the launch of the Dashboard, RemoteMode is excited to announce upgrades to Virtual Lab. The new version of Virtual Lab introduces Skill Points to be awarded to students as they employ various technologies and tools to complete their practical, real-life projects. The projects consist of tasks broken down into multiple steps. At the end of each task, the students' results are reviewed and critiqued by professional experts in the designated discipline. As the students complete tasks, they earn Skill Points that translate to credits toward RemoteMode certification in their applied skill sets.
The new version of Virtual Lab also features a progress bar to indicate a student's progress on tasks completed and projects submitted in the Lab. Three projects will be available in each career sector, designed to be increasingly more challenging. Students who complete all three projects in their chosen area of expertise become RemoteMode certified.
The Dashboard and enhanced Virtual Lab are captivating elements in RemoteMode's full-service program to train adults in job skills that enable graduates to pivot to new careers or accelerate their current career goals.
About RemoteMode: Headquartered in Greater Boston, Massachusetts, RemoteMode offers a straightforward step-by-step process to start a new remote career and land that first job. The company's innovative, holistic approach was crafted by business owners, educators, and career consultants to address starting a new career from beginning to end. The company's entire process is predicated on knowing what employers are looking for and being able to adequately serve their needs. To accomplish this goal, RemoteMode emphasizes a collaborative learning environment, mentorships by experts in their fields, and experience through in-house internships, i.e., Virtual Lab. They get candidates job-ready with live projects in their portfolios, professional resumes, and job interview skills.
Take the first step to your new remote career!
Welcome Back!
Please enter your email and password to log in: