10 Best Companies for Remote Tech Jobs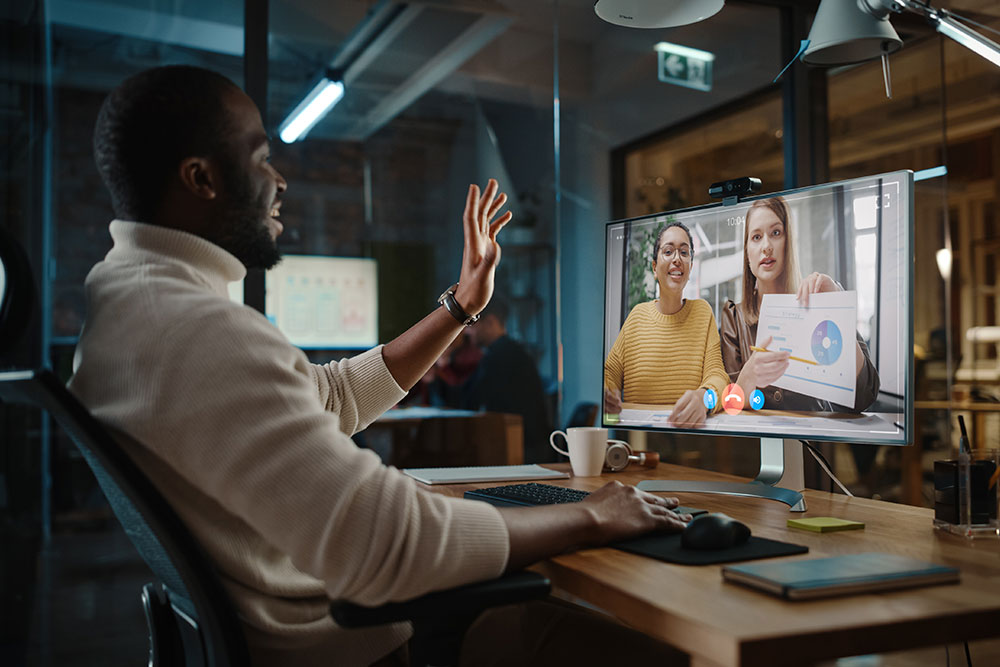 If you have been thinking about getting away from the rigors of the office cube farm and the grind of the daily commute, you may already know that working remotely is on the rise in many companies. Remote work opportunities are expanding at a phenomenal rate. In 2020, almost 5 Million Americans (about 3.5% of the US workforce) worked from home prior to the COVID-19 restrictions. Numbers are still being compiled for how many people started working remotely after the pandemic hit, but one thing everyone is sure of—working remotely is here to stay for many office jobs. More than half of all companies allow remote work, and as the resulting increase in productivity and decrease in operating costs are realized, many more companies will join the ranks.
Information Technology jobs in particular lend themselves to remote work. As long as you have a phone, a computer, and an internet connection, you can perform the majority of I/T tasks from anywhere anytime.
The following list of companies are among the best at promoting and supporting remote work. These are excellent companies to target in a job search for work-from-home opportunities, and they all are heavily dependent on I/T.
#1 – GitLab
GitLab's DevOps platform offers source code management and security to such organizations as Goldman Sachs, Nvidia, Equinix, Siemens, and Drupal. They specialize in enabling software developers in other companies to work remotely, so of course, they drink their own Kool-Aid with a fast-growing, all-remote workforce of software engineers and DevOps administrators.
#2 – Welocalize
If you combine your passion for I/T with interests in languages and cultures, Welocalize may be an excellent option. They transform multilingual content to help global companies engage with international markets. Promoting an internal culture of continuous development and improvement, the Welocalize team draws from developers and linguists from around the world in a totally remote work environment.
#3 – Clevertech
This software development company has supported remote work for fifteen years. Branding itself "Remote Native," this company has refined their processes to create a stress-free environment for virtual workers, drawing developers from all over the globe.
#4 – Elastic.co
Elastic.co specializes in using the "power of search" to enable companies of all types to analyze and explore their data. The workforce is global, demanding that they support and empower their "Elasticians" in remote work environments, and they have fun doing.
#5 – X-Team
With 100 percent of the workforce at X-Team working remotely, this company has proven the viability of remote work for software developers. X-Team provides financial assistance to team members to further their education, and it helps employees create a home-office environment that "motivates and inspires" them to perform at their peak.
#6 – Coalition Technologies
This company is highly ranked for Search Engine Optimization (SEO) and Artificial Intelligence (AI) services. They pick top skills and then train the staff with university-level courses to further develop their capabilities. One of this company's core values is ensuring a high quality of work by promoting a better quality of life. Remote work is one of the quality-of-life advantages.
#7 – Fastly
Fastly is an edge cloud platform company that offers their clients faster and more powerful websites and applications. They are a relatively small company with a "big reach." They create a positive work environment for their workers, more than 50% of whom work outside the corporate headquarters.
#8 – TTEC
Ken Tuchman, CEO of TTEC, is dedicated to the work-from-home philosophy. He also believes in growing talent. With more than 50,000 employees worldwide, TTEC prides itself on delivering superior Customer Experiences through CX optimization and digital transformation by focusing on customer care and customer acquisition.
#9 – HotJar
This website company is 100% remote and emphasizes both personal and professional development for its employees. The company's goal is to "create experiences users will love." This small company is self-funded and profitable with employees distributed around the world. They emphasize diversity and communication.
#10 – Modern Tribe
Modern Tribe delivers "digital solutions that empower people and platforms" through the development of custom websites and applications. Working with many famous national and international brands, this company employs over a hundred "digital creatives," all of whom are remote workers.
Conclusion
This list is just a sampling of the thousands of tech companies large and small employing remote software and network engineers, DevOps and security specialists, database and system administrators, and every other brand of I/T professionals. Every company is on the lookout for bright new talent with credentialed skills and a desire to make a difference. If a work-from-home career in tech sounds like your next move, contact a career counselor at RemoteMode to learn how quickly and affordably you can gear up to join the remote work crew at one of these exciting companies.
Take the first step to your new remote career!
Welcome Back!
Please enter your email and password to log in: