4 Tips for Successful RemoteMode Virtual Lab Projects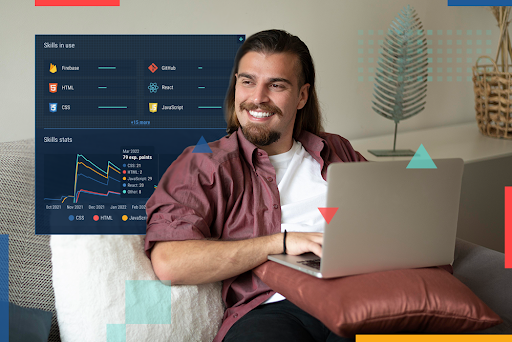 Knowledge is not useful until it is applied. A skill atrophies if it is not used. When you enter a new job market, potential employers are not as interested in what you know as in what you can do. With these axioms in mind, RemoteMode has built into their world-class training curriculum the Virtual Lab. When you undertake a course of study at RemoteMode, your job preparation is not complete until you have accomplished a set of projects in the Virtual Lab.
The projects in the Virtual Lab are designed by industry experts—working professionals who make a living in the tech sector solving real problems for real customers and clients. When you pick up a project in the Virtual Lab, you will be performing the same work and implementing the same solutions that professional engineers and developers do all the time. You will get an authentic glimpse into the work you are preparing to do as a full-time job.
The Virtual Lab projects are designed to immerse you in the technology you have trained to do. The projects will enable you to practice the skills you have learned during your coursework. They will also stretch you to expand your knowledge in practical ways and acquire new skills to make you even more valuable.
As you complete the Virtual Lab projects, you build your portfolio. When you interview with a hiring manager, they want to not only hear your answers but see evidence of your work. A portfolio of completed projects is your golden ticket.
The Virtual Lab simulates the remote tech work environment for which you are training. You will roleplay various positions in your chosen field. You will receive assignments and instructions, but you will also have to do a lot of thinking on your own. The tasks will be challenging, but you will have resources available to help and guide you.
Of great value to your growth will be the review and feedback your projects will receive from senior professionals. People who work full time in the field you are training for will examine your work and critique your performance. Their nonjudgmental feedback will be like gold nuggets you pick up along the way and put in your pocket.
So, when you are ready to launch into a Virtual Lab project, what can you do to get the most out of the experience? Here are four useful tips for completing successful projects.
Tip 1 – Organize
What do most people do when they open the package for a product they just bought that needs assembly? The average person pulls out the assembly instructions, reads the first sentence that says,
"Read all these instructions carefully before beginning,"
throw the instructions away, and start building. But you are no longer average. You have been trained to be logical, methodical, and meticulous. You know how to organize.
A successful project, whether in training or on the job, requires organization first and foremost. Rarely does shooting from the hip and hoping for the best yield superior results. You must take careful aim, which requires a plan. You cannot create a useful plan unless you know the target. Therefore, start every project by first reading the entire project description. Understand the desired end result and all the steps along the way before beginning.
Every professional project has a schedule and a deadline. The project manager never says,
"When you get around to it, it would be really nice if you could complete this task."
So, take your Virtual Lab project seriously. Create your own schedule and deadline, and then work to that deadline. You are your own boss during training, so hold yourself accountable.
And by all means, finish the project. You get no credit for half a job, either in training or in the workplace. Be a person who finishes what they start. Tenacity and persistence are key traits of a successful employee. Your employer can train you in more skills, but they cannot instill in you desirable characteristics, like patience and sticktoitiveness. You have to bring those with you.
Tip 2 – Use tutorials and examples
The Virtual Lab project designers do not expect you to know everything already to complete the project. Rarely in a real work assignment will you already have all the knowledge and skills you need to complete the task. Your Virtual Lab projects will help you learn how to learn on the job.
Every professional developer and engineer has a crucial set of tools in their toolbelt—copy, modify, and apply. Virtually every project you will be called upon to do in your career will build on something similar that has already been done. You are never expected to reinvent the wheel.
The first thing a software developer does on a new project is find a similar project that they or a colleague have done in the past and study it. They find the modules of code that do the same kinds of functions required in the new app and then copy them. Or a network engineer will find a network configured similarly to the new network they are assigned to set up and they figure out how that previous network was built. The same is true for database engineers, cloud engineers, and DevOps engineers. It's not plagiarism, it's smart practice.
The key to being a successful copier is to understand how and why the examples work. No two deliverables are exactly the same. An example may serve as a template to get you started, but it never fits exactly the requirements of your new project. A sample can be an excellent learning tool and a jumping-off point, but it will never be the whole solution.
Tip 3 – Ask questions
In the real world, every project has a sponsor, and most will have a product manager. These are the "customers" who came up with the idea for the project and have the vision for what the final product should do. They are valuable sources of information to guide you as you work on the project.
In Virtual Lab projects, use your mentor as the project sponsor. Every RemoteMode student is assigned a personal mentor. Your mentor's job is to guide and direct your learning to ensure you are successful. Rely on your mentor to guide you in your projects. Ask them questions. They won't necessarily give you the answers, but they will show you where to find the answers. Being able to ask good questions about a project is another crucial skill that will enable you to succeed in the workplace.
Tip 4 – View your project like an employer
As mentioned in the introduction, your completed Virtual Lab projects become your portfolio to show prospective employers. The actual hands-on work you complete will be far more impressive than your verbal answers in an interview. So, make sure your project results sparkle with professionalism. Just getting something to work isn't good enough. It should be polished. The hiring manager knows that as a student, you have had time to shine up your projects. They are looking for that extra attention to detail that shows you care about your work.
Final Thoughts
RemoteMode's Virtual Lab is the highpoint in your career preparation program. The value these projects bring to you as a learner far outweigh the time you spend on them. Successfully completing Virtual Lab projects is key to starting your remote tech career. Use these tips to get the most from your Virtual Lab immersive learning experience.
Talk to a RemoteMode career advisor today to learn how RemoteMode's superior online training program and Virtual Lab can prepare you for an exciting and lucrative remote tech career.
Take the first step to your new remote career!
Welcome Back!
Please enter your email and password to log in: