5 Excellent Entry-level Jobs for Liberal Arts Majors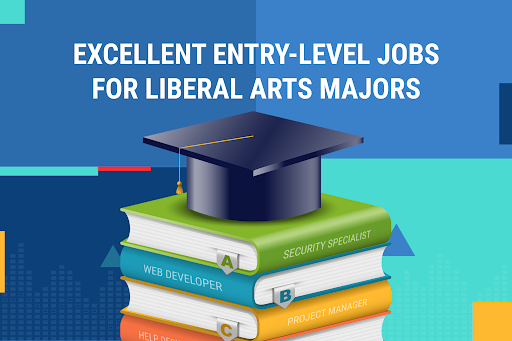 Liberal Arts degrees sometimes get a bad rap because they are not vocationally focused. A Liberal Arts degree does not prepare you for a specific career. But, don't downplay the value of a Liberal Arts education. Such a degree readies you for a wide range of opportunities in virtually every industry. Your schooling has honed your intellectual capacities and given you a broad spectrum of knowledge. You possess attractive qualities that every employer wants in his or her staff.
While many entry-level jobs are open to you as a Liberal Arts graduate, the high-demand, top-paying jobs demand just a little edge over the run-of-the-mill positions. You have demonstrated your ability to learn, now put that ability to work to pick up some specific training to put you in the running for the very best entry-level jobs. You do not need another degree. You don't need to go to school full-time. A remote training program gives you the freedom to enjoy your post-graduation life and learn at home, at your own pace, without the hassles of campus life. A few months' part-time training in any of more than a dozen technical fields can push you to the top of the candidate list at some of the most sought-after companies in the world.
Before learning where you can enroll in a full-cycle remote training program that will launch you into the job market in just a few months, take a look at a few of the best entry-level jobs in the information technology sector.
1. Help Desk Engineer
A Help Desk Technician specializes in people and communicating. This job role requires a person who first and foremost connects with people, listens well, empathizes, and seeks to understand. When users become frustrated with computers or systems, they turn to the help desk. A technical support specialist who actively listens to the person at the desk, on the phone, or on a live chat can perform virtual miracles in calming an upset user and turning a bad situation into a positive learning experience.
Help Desk Engineers spend much of their time training users, which means the techs themselves must be quick learners and capable teachers. Writing is also high on the list of valuable skills for Help Desk workers. The task often falls to them to document new applications and systems, write user manuals and desk aids, and define the solutions for recurring problems. If you enjoy helping people, teaching, and writing, a three-month course in Help Desk engineering is all you need to put you in the running for a mountain of tech support jobs. More than 880,000 Help Desk Engineer jobs exist in U.S. companies. Entry-level salaries start around $41,000.
2. Project Manager
People skills also head the list of requirements for Project Managers. The next two skills are communication and organization. If you also have a flair for finance, that is a plus. Project Managers spend much of their day working with people, whether that be members of their project team, executives, project sponsors, or end users. A Project Manager's primary task is to keep everyone associated with the project informed of plans, progress, risks, and issues.
Project Managers organize projects, including defining the project deliverables, outlining the project tasks, scheduling the tasks, and gathering the team to perform the tasks. A key to successful project management is the ability to anticipate risks–pitfalls and potholes into which the project team may fall along the way. The PM works with the project team and management to mitigate the risks and ensure they do not negatively impact the project.
Along with tracking project schedules, PMs also track and report on project budgets and expenditures. To be successful, a project must deliver on time and on budget. If leading people, coordinating tasks and interacting with a wide range of individuals appeals to you, with less than 130 hours of remote training you can be interviewing for an excellent Project Management position. Average starting salary for a PM is $51,000.
3. Web Developer
The job of Web Developer encompasses a number of technical specialties, from Java and Microsoft .Net Developer, to Front End Developer, to Mobile Developer. While these specialties vary in the technologies they use, they all share certain skills and attributes. First among those skills is the ability to understand people and how they want to interact with their computers and applications. Unraveling the thought processes of a potential user is as much art as it is science. Building applications for the Web and mobile devices that feel natural and intuitive to users is the mark of a successful Web Developer.
Learning a programming language is very similar to learning any foreign language. You learn vocabulary and syntax to build a program. With time and practice, you become fluent in the language until you "speak" it like a native. Inherent in programming is the use of logic. The ability to create a sequence of steps with alternative paths based on data and events is the essence of programming. If you can tell someone how to cross a street or bake a cake, you can program.
Software developers are in high demand, and that demand is growing rapidly in this day of Digital Transformation. Over 1.5 Million software development jobs exist in the US, and that number will grow by 22 percent in this decade. The average entry-level salary for a Web Developer is $57,000.
4. Data Analyst – Python Developer
Data is the heart of the Digital Transformation wave sweeping across every industry. A person who can work with data to turn it into information is extremely valuable. One of the most popular programming languages for performing Big Data Analysis is Python. A Python Developer manipulates, summarizes, and distills giant data sets into meaningful reports, charts, and graphs to provide business executives with the information they need to make strategic decisions for their companies. A Data Analyst combines the sciences of statistics and programming with the skills of a detective to develop the nuggets of information that fuel business decisions.
If you have a bent toward analysis and statistics and an interest in languages, training to become a Python Developer may be your ideal next job leading to a fabulous career. Entry-level Data Analyst positions start at around $51,000 a year. Over 80,000 jobs are available in the U.S.
5. Security Specialist
Security Specialists manage the security of a company's computers, networks, and databases. They protect the company's data and users from cyber attacks by analyzing systems, researching evolving risks, and design improvements to the systems' defenses. Like so many tech jobs, the Security Specialist position is a combination of technical and people skills, with a high emphasis on communication.
If you are drawn to detective work and have an analytical mind, Security Specialist may be a good fit. A program that includes 150 hours of training and an appropriate industry certification can prepare you for this highly respected career with opportunities to rise to a C-level position in your organization. Nearly 3 Million cybersecurity positions are open worldwide. These jobs start at $63,000 a year on average in the US.
Additional Thoughts
A Liberal Arts education means you are a well-rounded individual with solid and marketable skills across many fields. You are poised to turn your degree into a fulfilling and profitable career—provided you add an area of technical expertise to your broad knowledge. Remote training is the ideal program for a recent college graduate. You get the training you need on a flexible schedule that fits your lifestyle from the comfort of your home. RemoteMode's full-cycle technical training program offers many services not found in other online programs. Not only do you get professionally designed and produced training courses, you manage your studies with a state-of-the-art instructional system that brings gamification and self-determination to your training. You are supported by mentors, career advisors, and working professionals. You build your portfolio with real-world projects. You receive help creating a professional CV, building a valuable social media network, and preparing for interviews. Contact a RemoteMode career counselor today to learn how quickly and affordably you can pivot to a remote tech career.
Take the first step to your new remote career!
Welcome Back!
Please enter your email and password to log in: