How Do I Know If a Remote Learning Program Works?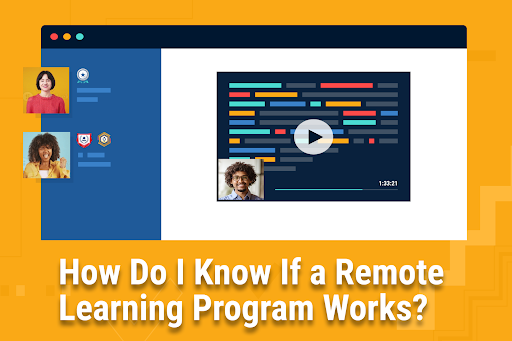 Learning skills to prepare for a tech career is essential for making the leap into a remote tech job. You can go about getting the knowledge and skills you need in a number of ways. You could get a four-year degree in computer science or information technology and hope you have learned enough of the leading-edge skills to make you marketable.
You could scour the internet for free tutorials on how to code, configure a network, set up a database, and analyze spyware. But, you don't know the quality of the information, and you are on your own to cobble together a path from disparate pieces of knowledge that hopefully will get you what you need. Don't expect employers, however, to recognize or accept your self-designed course of instruction.
Somewhere in between the rigid structure of a formal degree and the fly-by-the-seat-of-your-pants DIY internet tutorial route is bona fide remote training from accredited and reputable institutions. Online training has many advantages while avoiding the disadvantages of other learning options. Be aware, however, that just because training is online doesn't mean it is good or worth your time and money.
Here are some critical signposts to look for as you evaluate the effectiveness of any given remote learning program.
Web-based access from many types of devices
With the rise of remote learning, students require access to educational resources from any device, anywhere. This is where web-based access from multiple types of devices plays a crucial role in effective learning. It offers you the flexibility to work at your own pace and on your own schedule, reducing stress and increasing engagement. This leads to improved learning outcomes, especially in areas where traditional educational resources may not be available.
RemoteMode is a web-based platform designed to meet the demands of modern-day education. It provides you with web-based access to educational materials, tools, and resources from any device, including laptops, desktops, smartphones, and tablets. This solution offers the flexibility and accessibility needed for successful remote learning. Whether at home or on the go, you have the resources you need at your fingertips with RemoteMode.
Two-way communication between the learner and the teacher
Effective communication between the learner and the teacher is critical to the success of any learning environment. With the ability to communicate directly with your teacher, you can receive immediate feedback, ask questions, and receive clarification on key concepts. Two-way communication not only strengthens the student-teacher relationship, but it also helps to ensure that you have the support you need to succeed.
RemoteMode understands the importance of two-way communication in the learning process and has incorporated this principle into its platform. The platform provides you with the ability to communicate directly with instructors, allowing for real-time feedback, question-asking, and clarification. With RemoteMode, learning is not a one-way street, but a collaborative effort between the you and your teachers.
Meaningful progress reports to maintain accountability
In order to assess the progress of their students, teachers need to have access to meaningful and relevant data. Progress reports provide teachers with a clear understanding of how their students are performing and what areas need improvement. This information is essential for tracking progress and ensuring accountability in the learning process. It helps teachers tailor their instruction to the needs of their students, promoting student success and academic achievement.
RemoteMode recognizes the importance of meaningful progress reports in the learning process and has built progress reporting into its platform. The platform provides teachers with real-time data on your performance, allowing both them and you to track progress and make informed decisions about how best to support you.
Prompt and accessible learner support services
In any learning environment, it's crucial that you have access to prompt and accessible support services. This can include academic advising, technical support, and other resources that help you overcome any challenges you may face during your learning journey. When you get the support you need, you are able to stay engaged and motivated, leading to improved learning outcomes and academic achievement.
At RemoteMode, the team understands the crucial role that learner support services play in the success of your education. To address this, they have made sure to include a comprehensive array of support services within the platform. From academic advising to technical assistance, you can access the resources you need to tackle any challenges that arise. Whether you are seeking help with course material, navigating the platform, or just have a question, RemoteMode has made sure that support is always readily available.
Final Thoughts:
RemoteMode is a cutting-edge learning platform that prioritizes student success and academic achievement. The platform has been designed with several key principles in mind, including web-based access from many types of devices, two-way communication between the learner and the teacher, meaningful progress reports to maintain accountability, and prompt and accessible learner support services. In this way, RemoteMode provides you with a seamless and effective learning experience. Whether you need to access coursework from anywhere, stay connected with your  teachers, track your progress, or receive support when you need it, RemoteMode has everything you need to succeed. With its focus on student success, it is clear that RemoteMode is the future of learning.
So, don't wait. Join the remote learning revolution today!  To get started and experience the benefits of a more effective and engaging way of learning, contact a RemoteMode career advisor right away.
Take the first step to your new remote career!
Welcome Back!
Please enter your email and password to log in: