Enhancing Your Social Life While Working Remotely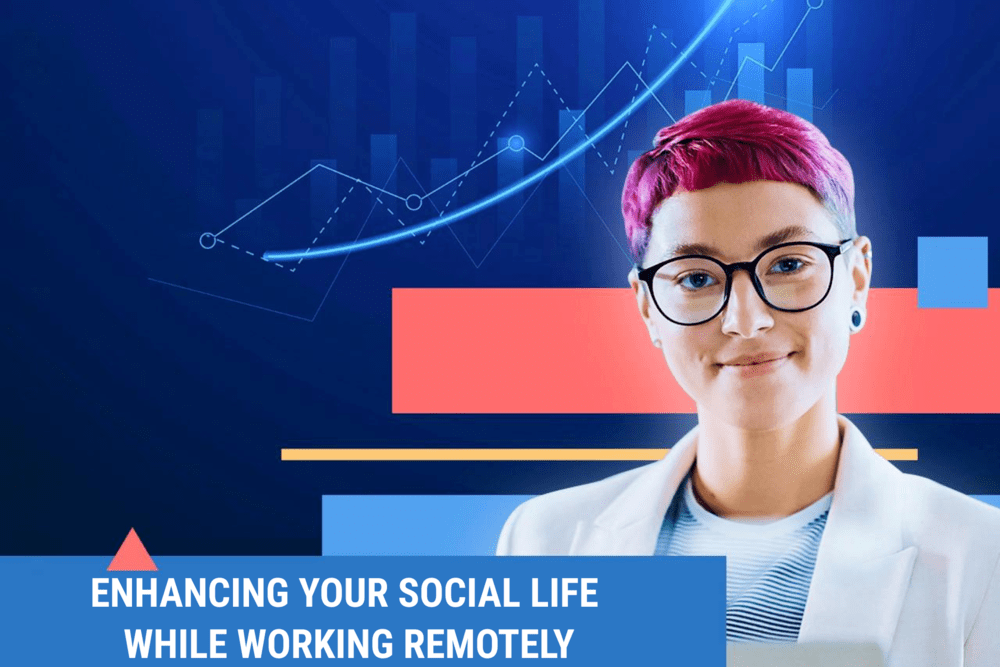 Working remotely has a lot of benefits, but it can be tough to stay social. When you're not in an office, it's easy to miss out on the everyday social interactions that help you feel connected to other people. You might not have as many opportunities to chat with co-workers or go out for lunch with friends. And when you are socializing, you might feel like you're not present because you're also trying to get work done. It can be daunting to find the balance between staying productive and connected, especially with so many tasks competing for our attention.
The way we work is shifting. Thanks to updates in communication technology, more and more people are working remotely. As a result, the way we socialize is getting an update, too. Several tools can help you stay connected to your colleagues, even when you're not in the same physical space. Ultimately, it's all about your mindset in how you'd like to balance your social life with work. There are a few ways remote workers can enhance their social life while working remotely.
Join a Virtual Networking Group
In today's world, it's easier than ever to connect with others online. Whether you're looking for professional networking opportunities or just a way to socialize, joining a virtual work group or networking group can be a rewarding investment of your time. There are groups for just about every interest and industry, so you're sure to find one that's a good fit for you. Plus, you can participate in conferences from the comfort of your own home - no need to commute or dress up for meetings. Virtual networking can be a great way to meet new people and expand your professional network. So why not give it a try? You might be surprised at how much you enjoy it.
Use Video Chat Tools to Meet with Colleagues and Clients
The pandemic has forced many of us to work remotely, which can be a challenge for staying connected with colleagues and clients. Video chat tools can help you bridge the gap by allowing you to hold virtual meetings and catch up with people face-to-face, even if you're not in the same location. Several different video chat platforms are available, so you can choose the one that best meets your needs. For example, Skype and Zoom offer a variety of features, such as screen sharing and recording, that can be useful for business meetings. And FaceTime is an excellent option if you want to catch up with friends or family. With video chat, you can stay connected with the people who matter most, no matter where you are.
Follow Thought Leaders on Social Media
Working from home can prove challenging to stay connected with colleagues and peers. On top of that, keeping up with the latest trends can be tough with so many distractions. One way to combat this is to follow thought leaders you like on social media. This way, you can stay up-to-date on the latest developments in your industry and join in on the conversation. Not only will this help you feel more connected, but it will also help you develop professionally. In addition, following thought leaders on social media can also help you expand your network and make valuable connections.
Engage in Online Forums and Discussion Groups
One great way to stay social while working remotely is to find online forums and discussion groups relevant to your work or your passions. Not only will you be able to keep up-to-date on industry news and developments, but you'll also be able to connect with other professionals who understand the challenges and rewards of working remotely. Platforms like Twitter and Reddit can be beneficial for joining the conversation and flexing the social muscle frequently. Plus, you can find niches you enjoy talking about online. By taking advantage of these social resources, you can make sure that you never feel alone while working from home.
Subscribe to Newsletters
It can be easy to feel isolated when working remotely, especially if you're used to being in an office environment. One way to stay connected and social while working from home is to subscribe to newsletters and email lists from reputable sources. This way, you can stay up-to-date on what's going on in your industry, learn about new products and services, and connect with other professionals. Newsletters can provide a sense of community while helping you stay in the know of content creators you admire. Additionally, many newsletters and email lists offer exclusive discounts and deals that you can take advantage of as a subscriber.
Invest in Social Experiences That Matter to You
In our fast-paced, digital world, it's easy to forget the importance of face-to-face social interaction. We can stay connected to our friends and loved ones with a few taps on a screen, but this virtual connection can never take the place of in-person interaction. If you want to stay fulfilled socially, it's essential to make time for your social life in person. This means investing in experiences that are meaningful to you, whether that's attending a weekly book club meeting or exploring your city with a group of friends. When we take the time to connect with others in person, we make lasting memories and build relationships that enrich our lives. So don't underestimate the power of physical touchpoints with your loved ones. This type of social interaction goes a long way in enhancing your social life while working remotely.
Take the first step to your new remote career!
Welcome Back!
Please enter your email and password to log in: