How Can I Get Job-winning Experience in Remote Tech Work?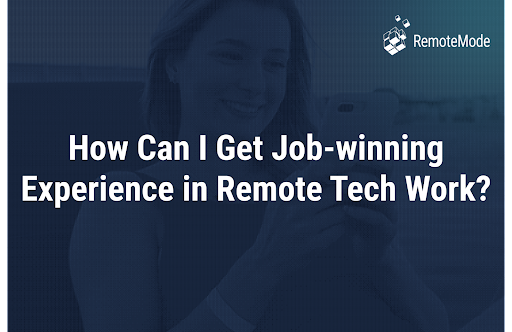 It's a frustrating conundrum:
You need experience to get a job, but you need a job to get experience.
So, how do you break into a new industry or a new job category? Even jobs advertised as "entry-level" often include requirements for some amount of experience. How do you defeat this disheartening cycle?
Many people have successfully pivoted to a new career, and you can, too. In this article, we'll describe some of the best strategies for overcoming the experience deficit and opening doors to exciting opportunities for newcomers in the remote tech job market. Here are just four ways you can catch the attention of hiring managers and increases your chances of getting an interview and landing your dream job.
Apply past experience to the new job
Figure out what skills and experience from your previous jobs can apply to your target job. Many general work skills are transferable to jobs in a new industry. For example, if you have previous customer service experience and want to transition into a remote tech job like technical support, you can apply your skills in communication, problem-solving, patience, empathy, adaptability, and learning agility. Highlight these transferable skills on your resume and during interviews to show hiring managers your potential for success in the remote tech industry.
In addition, consider your skills and experiences that may not transfer directly but can be transformed for your new job. For instance, If you have experience as a project manager in a non-tech industry and want to transition into a remote tech job as a product manager, you can leverage your skills in leadership, team management, time and resource management, stakeholder communication, negotiation, analytical thinking, and problem-solving. Adapt your resume and provide examples that demonstrate how these skills can contribute to your success in the new role.
Earn industry certifications
The Computing Technology Industry Association (CompTIA) is the premier provider of vendor-neutral technology certifications. Companies around the world recognize and value CompTIA certifications. These certifications indicate that the job candidate has mastered the necessary skills to a level of proficiency that proves they can do the work.
The best CompTIA certifications to put on your resume for entry-level tech jobs are:
CompTIA A+: A foundational certification that validates the essential skills in computer hardware and software, networking, and security, making it a versatile choice for various tech roles.
CompTIA Network+: Focuses on networking concepts, infrastructure, troubleshooting, and security. This certification is beneficial for roles related to network administration and support.
CompTIA Security+: Validates knowledge of basic cybersecurity principles, risk management, threat detection, and incident response. It is valuable for entry-level security specialist positions.
CompTIA Linux+: Demonstrates proficiency in Linux operating systems, covering areas such as system configuration, command-line operations, scripting, and security. It is beneficial for roles involving Linux administration, support, and cloud engineering.
CompTIA Cloud+: Focuses on cloud computing concepts, virtualization, and troubleshooting. This certification is valuable for roles related to cloud infrastructure and services.
RemoteMode is a CompTIA Authorized Delivery Partner. Every tech training program at RemoteMode includes the opportunity to earn one or more CompTIA certifications.
Build a portfolio of projects
To build a portfolio of projects that showcase your skills in remote tech work, RemoteMode offers the Virtual Lab platform. This innovative educational offering allows students to work on real-life projects based on actual business problems, transitioning them from classroom learning to immersive, hands-on experiences. The projects in Virtual Lab cover various tech skills such as programming, network engineering, development operations, security analysis, and project management. Students receive guidance, task breakdowns, and expert feedback throughout the project completion process. By successfully completing projects in their chosen area of expertise, students earn RemoteMode certifications and add the finished projects to their portfolios, strengthening their resumes and job applications. Visit RemoteMode's Virtual Lab to gain practical experience, enhance your skill set, and position yourself for success in the remote tech job market.
Find volunteer and internship opportunities
Many small and non-profit enterprises need help with technology but lack the budget to pay full-time employees. Volunteering your burgeoning tech skills not only provide you with real-world experience but allow you to contribute to valuable organizations. To find volunteer opportunities, search on job boards, such as Indeed.com, LinkedIn.com, and Monster.com. Small town city governments, libraries, and school districts often want volunteer help. Non-profits such as, Love Justice International, Association of International Educators, Plant It Forward, and Children of the Nations, to name just a few, are always looking for remote tech volunteers.
Large corporations usually employ interns in their technology departments. Some internships are paid, and others are not. The value of an internship, however, is not the salary but the professional experience. Examples of such companies include Google, Microsoft, Amazon, Apple, Facebook, and Pinterest.
Final Thoughts:
Breaking into the remote tech job market may seem challenging when faced with the experience deficit dilemma. However, by leveraging past experience, earning industry certifications like CompTIA, building a portfolio of projects through RemoteMode's Virtual Lab, and exploring volunteer and internship opportunities, you can overcome these obstacles and increase your chances of securing a job in this competitive field. RemoteMode provides the resources, guidance, and hands-on experiences needed to succeed in remote tech work. Take the first step towards your remote tech career by visiting RemoteMode's website today and unlock the opportunities that await you.
Take the first step to your new remote career!
Welcome Back!
Please enter your email and password to log in: