How to Job Hunt in the World of Remote Work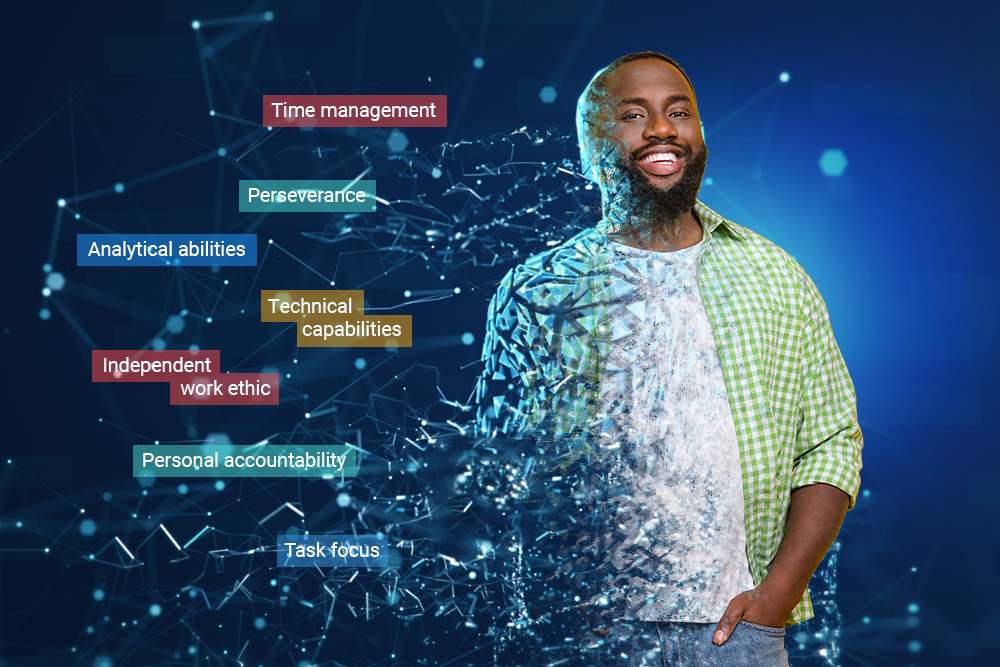 The COVID-19 pandemic sent the plodding progress of working remotely on a wild ride, pushing the numbers of remote workers and remote jobs to unprecedented heights. While the pandemic now meanders through the ups and downs of more or less virulent variants, the remote work job market continues strong with no signs of abating. The "Help Wanted" placards displayed prominently in the storefronts of restaurants and retail stores across the country may not appear so obviously visible in the windows of corporate offices, but they are there nonetheless.
Remote work has established a solid foothold for many office jobs and knowledge-worker positions—and nowhere is this more true than in the tech sector. Studies have shown that working remotely benefits both the employers and the employees. Many companies are now hiring exclusively for remote-work-only positions.
With companies racing to acquire more work-from-home talent, the job hunt process for these remote jobs has changed. Employers no longer rely on the classified section of the local newspaper to advertise openings. Headhunter agencies that were all the rage a couple of decades ago to match applicants with jobs have dwindled to nothing.
Below are a few strategies for finding remote work jobs in the modern market. Be aware, however, that finding a job and qualifying for that job are two different things. To be successful in launching a remote work career, you must combine technical work skills with savvy job hunting skills to land a job. RemoteMode's career preparation program teaches you both how to do a job and how to find the job you want. Here are some job hunting ideas to get you thinking.
Highlight remote-friendly skills in your CV
Consider your strengths in the following list of skills required for successful remote work:
Communications (both written and verbal)
Technical capabilities with remote collaboration tools
Independent work ethic
Personal accountability and motivation
Task focus (the ability to screen out distractions)
Along with the ability to perform the duties in the job description, these "soft" skills are essential to working successfully in a remote environment. Play up your experience and comfort with these characteristics in your resume. Give examples, if possible, of situations in your past where you have demonstrated your strengths in as many of these areas as possible. If you have received your job training from a remote training company like RemoteMode, highlight it as key evidence that you are primed for remote work.
Search remote job boards for openings
Although traditional online job boards will list some remote work opportunities, you have to wade through a lot of thorns to find the roses. Niche boards that specialize in remote work openings can expedite your search. The following are a few examples:
Specialized job boards like these can help you narrow down your search and quickly find the remote job that matches your interests. You can tell immediately how many remote work jobs are available.
Create virtual connections
Not only are jobs going virtual, so is the hunt for online jobs. The old adage is still true in the world of virtual job hunting: "It's not what you know, but who you know." The best way to find a job is still to connect with the people who know about job openings. Your social media network can provide you with the professional contacts you need to ferret out those hidden gems of opportunity.
The first rule is to create a professional social media brand for yourself. The axiom that opposites attract may work in romance novels, but it doesn't apply to making professional connections. Establish a social media account on a platform where people in your target industry go, like LinkedIn. Be yourself, be human, but avoid the cutesy or flamboyant image. 
The best way to create connections is to use your professional account to interact with others who do the kind of work you want to do. Make comments in forums, participate in chat boards, follow thought leaders in the industry. The key here is to be genuinely interested. Your ultimate goal may be to connect with a job, but your immediate objective is to connect with people. So, be someone with whom others would want to connect and interact. The job connections will come naturally once the people connections are authentic and warm.
Prepare for a virtual interview
The search for a remote job as often as not involves a remote interview. Be aware of how you come across in a remote interview setting. This begins with the photo the interviewer will see before they open the video connection. A simple, smiling headshot tells the interviewer volumes about you before your laptop camera goes live. You get to make only one first impression. It should not be a picture of your eyebrow, your dog, or your gamer avatar.
Consider your background. What shows behind you in the camera frame may distract the interviewer or send the wrong message. Your background should be simple. You are the star of this show, not your favorite piece of art.
Check your camera angle. No one wants to look up your nose while they are talking to you. Also prepare proper lighting. An open window or other bright backlighting will turn your face dark and hide your features. Unless you are interviewing for a part in a horror movie, avoid the sinister shadows.
Test the technology. Make sure your camera and microphone are on and the volume is up. You don't want to be flustered by video conference technology when you are interviewing for a job that involves video conferencing every day. Consider practicing with a friend, colleague, or family member and get their feedback on how you look and sound on camera.
Final thoughts
Knowing how and where to search for remote jobs is crucial to your plan for pivoting to a remote work career. A polished CV that highlights the most valuable characteristics, a network of professionals who can put you onto the hottest openings, solid remote interview capabilities, and intelligent search strategies that include remote-work specific job boards all contribute to a successful virtual job hunt. If you lack solid, demonstrable qualifications for the job you want, however, your masterly job search techniques are fruitless.
RemoteMode offers world-class remote training in more than a dozen career paths targeted specifically for remote work. In just a few months, you can go from learning to earning in a challenging and exciting remote job.
What's more, RemoteMode's full-cycle program not only provides you with the technical skills you need, it sets you up with a professional mentor to guide you through the training and job-search process, immerses you in real-life projects to build your portfolio, and connects you with career counselors who can help you polish your resume, build your professional social media network, and prepare you for your initial interviews.
Contact a RemoteMode career advisor today to learn how quickly you can realize your dream of a remote job that gives you an enviable lifestyle with a lucrative salary and the perks of freedom and flexibility.
Take the first step to your new remote career!
Welcome Back!
Please enter your email and password to log in: