Is Remote Work Right For Everyone?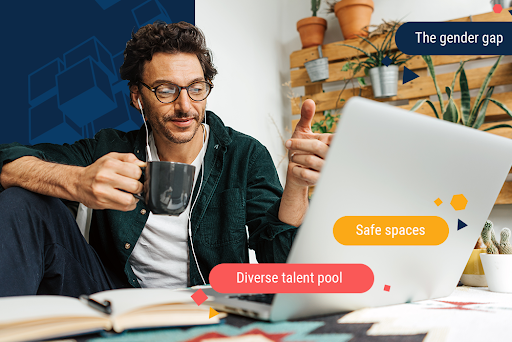 We live in an increasingly connected digital world, which means more and more people are working remotely. On top of that, the pandemic has forced companies to opt for a remote or hybrid model. As a result, over 35 million people in the US have the opportunity to work remotely -- a record-breaking number that's only projected to grow. Jobs with limited interaction with the public and reliance on digital communication have shifted towards remote work. Many companies are now grappling with the role of remote work in preparing for the future of work.
While remote work brings several advantages to employees - such as increased flexibility and the ability to work from anywhere - it's not always the best choice for everyone. There are many factors that contribute to success while working remotely, including your work routine, your environment at home, and your overall ability to be productive outside of an office setting. If you're not sure whether remote work is right for you, it's worth taking some time to try it out or find out more about it. You might find that you love the freedom and flexibility that comes with working remotely, or you might prefer a more traditional office setting. There's no wrong answer either way - it's all about finding what works best for your working style.
Staying Motivated
To be successful at remote work, it is essential to be self-motivated. This requires a combination of discipline, focus, and time management skills. Whether you're working from your desk at home or venturing into a coffee shop, it's essential to create a routine that helps you stay motivated and avoid distractions. Staying organized is also critical since remote workers typically don't have access to resources in an office environment. By setting clear goals for yourself and utilizing tools like project management software, cloud storage, and communication platforms, you can stay in control of your work even when you're not physically present in the office. Ultimately, success as a remote worker comes down to taking full responsibility for your progress and productivity.
Finding Social Balance
For many people, remote work is a dream come true. No more commuting, no more office politics, and the ability to design your own schedule make for an attractive workplace setting. However, remote work can be incredibly challenging for those who thrive on social interaction. Working from home can be isolating without the instant community of a physical office. In addition, remote workers may miss out on meaningful networking opportunities and face challenges when it comes to building relationships with co-workers. Studies have found that transitioning into remote work from in-person settings has carried over social bonds. The same is not true for the opposite scenario: work relationships formed through digital communication do not always translate well in person. For many employees who joined a company during the beginning of remote work adoption, the social connection may not be as strong as those formed before working remotely. Despite these challenges, remote work is still a viable option for those willing to put in the extra effort to stay connected with their colleagues. By staying proactive and taking advantage of communication platforms, remote workers can overcome the social challenges of working from home and enjoy the benefits of a flexible lifestyle.
Prioritizing Mental Health
For many, remote work can be a significant source of stress. In order to cope with the ups and downs of remote work, individuals must have the right tools and strategies at their disposal. A crucial tool in dealing with the stress of work is regular self-care. Whether this means taking time for exercise or connecting with loved ones back home, remote workers need to take steps to nurture their physical, emotional, and social well-being. Additional measures could also include establishing routines such as working during set hours each day or sticking to regular sleep schedules through alarm clocks or other technology. In short, remote work only really works if we approach it thoughtfully and intentionally to support our mental health in the long run.
The fact of the matter is that remote work is here to stay. Whether in a fully remote-work capacity or hybrid model, companies are embracing the benefits of remote work. People are now working from home because they choose to, not because they have to. That means a growing adoption of remote work as a standard for operating. Adapting to the future of work is about finding your fit in the remote, hybrid, or fully-in person workplace landscape. Whether remote work is right for you depends on your working style, career ambitions, and personal life situation. Regardless of your working preferences, you can thrive in any environment if you're aware of your setting's pros and cons and how your unique style can fit in.
Take the first step to your new remote career!
Welcome Back!
Please enter your email and password to log in: