Rehearse to Interview Like a Pro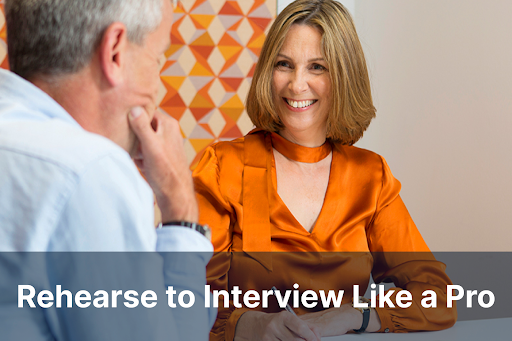 Interviewing is an integral and vital part of the job search. Just as you need the hard skills of the technology field in which you want to work, you also need the soft skills to wow the hiring manager of the company you want to work for. Successful interviewing skills can be learned and practiced. You don't want to get to this crucial step in your job hunt, only to find that you are unprepared.
Professional actors and musicians rehearse before they perform on a stage, not only so they know their parts, but to reduce the nervousness of performing live. Think of the interview meeting as your stage and the things you want to tell the interviewer about yourself as you part of the play. You wouldn't want the curtain to rise on the performance before you have had a chance to learn your part and rehearse your lines.
In this article, we'll share with you some of the most important points to remember as you prepare for an interview. And at the end, we'll tell you how the career advisors at RemoteMode will help you rehearse for that all-important first interview. Get ready. The curtain's about to rise on your new remote tech career!
Dress the part
Making a favorable first impression is crucial when interviewing, and the way you dress plays a pivotal role in making the best impression. It's imperative to dress appropriately for the position you're seeking, demonstrating that you've taken the time to prepare. Additionally, dressing sharp can boost your self-assurance, as you'll radiate confidence and feel comfortable, ultimately leading to a more positive interview experience.
Know your resume
When it comes to acing a job interview, nothing substitutes for knowing your resume inside and out. The interviewer will likely ask you about your past experiences, skills, and qualifications, so it's important to be prepared to speak to them in detail. Take the time to review your resume thoroughly and make sure you can confidently explain each point. Additionally, think about how your past experiences have prepared you for the position you're interviewing for and come up with specific examples to share with the interviewer. By rehearsing your responses and being well-versed in your own qualifications, you'll be able to showcase your strengths and impress your potential employer.
Learn about the company
If you want to stand out from the competition in a job interview, conduct thorough research on the company beforehand. According to recent statistics, 60% of successful job seekers spend significant time digging into the company's background, values, and mission. A valuable resource for this research is the company's LinkedIn page, where you can find a wealth of information on their culture, recent news, and leadership. By understanding the company's direction and leadership style, you can gain insights that will help you tailor your responses to the interviewer's questions and demonstrate that you're a good fit for the organization.
Be ready to tell the interviewer about yourself
One of the most common interview questions is, "Tell me about yourself." It's crucial to have a well-crafted response prepared for this question, as it sets the tone for the rest of the interview. Your response should be concise, engaging, and highlight your relevant skills and experiences. Focus on your professional background and accomplishments, and explain how they make you the ideal candidate for the position. Avoid rambling or oversharing personal information, and keep your response to two minutes or less. By rehearsing your response to this question, you can confidently and concisely introduce yourself to the interviewer and set yourself up for a successful interview.
Prepare to ask meaningful questions
At the end of most interviews, the interviewer will ask if you have any questions. This is an excellent opportunity to demonstrate your interest in the position and the company. To prepare meaningful questions, start by researching the company and the position thoroughly. Think about the challenges and opportunities the role presents and how you can contribute to the company's success. Then, come up with specific questions that show your understanding of the company's culture, mission, and goals. For example, you might ask about the company's plans for growth or how they measure success. By asking thoughtful questions, you can gain valuable insights into the company and show your interviewer that you're genuinely interested in the position.
Final Thoughts:
If you're looking to make a name for yourself in the tech industry, RemoteMode's training program offers a unique service to help you achieve your goals. While you train in the tech skill of your choice, our career advisors will work with you one-on-one. They are industry experts who know what it takes to conduct a job-winning interview. Our advisors will help you hone your interviewing skills, practice with you, and provide valuable feedback to ensure that you're confident and prepared to talk to hiring managers.
At RemoteMode, we understand that getting the job you want requires more than just technical skills. That's why we're committed to providing you with the resources and support you need to succeed in the tech industry. 
Don't miss out on this unique opportunity to work with industry experts and improve your interviewing skills while you gain knowledge and experience in one of the many career paths taught at RemoteMode. Contact a RemoteMode counselor today and take the first step towards achieving your career goals.
Take the first step to your new remote career!
Welcome Back!
Please enter your email and password to log in: