Is a Remote Tech Career Right for Me in 2022?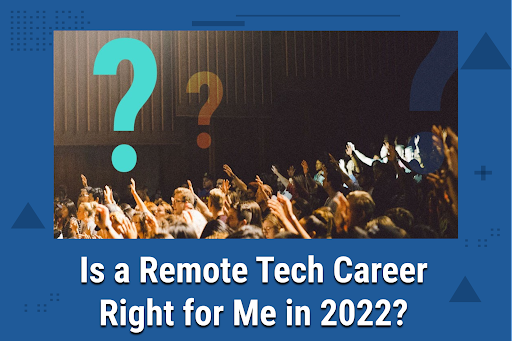 It is no secret that the technological landscape is rapidly changing. The high speed expansion of technology has led to an increase in jobs within the tech industry. And this trend is only going to continue in the coming years.
But what does that mean for you, the job seeker? If you're looking to start your career in technology or transition into a new role, now is the time to do it. Companies are scrambling to find workers with the right skillset, and they're realizing that there are great benefits to hiring remote employees.
Below are several traits that, if these describe you, indicate a career in technology may be a good fit for you. We also discuss some of the benefits of working remotely and provide tips on how to make a successful career change into the tech industry.
Enjoy continuous learning
Continuous learning is the key to success in today's tech-driven world. You must be prepared to embrace the next significant shift.
The skills that you possess as a tech worker may become obsolete within a few years. You must be prepared to embrace the next significant pivot: from desktop computing and software applications, to mobile devices and cloud services. The way we work, learn, and communicate will change dramatically over the next several years. In order for you to stay ahead of these changes, it is essential that you continuously learn new things—both inside and outside of your job role.
Thrive on a fast pace
Many people find it exhausting to live in a constant state of change. But for those who thrive on it, the fast moving technology landscape can be exhilarating. Tech careers are fast-paced, which means more opportunities for upward mobility.
The high rate of turnover and constant need to keep up with new developments can be challenging, but if you're willing to work hard and take advantage of the opportunities that come your way, you can reach phenomenal goals.
Desire remote work
Working from home was rediscovered by the majority of companies during the coronavirus. Though the rest of the world was forced into remote work arrangements, it wasn't a big deal for tech companies, since many were already employing a remote work culture..
In fact, many tech workers have been working remotely for years. Remote work offers more flexibility and freedom than working in an office. For those who are used to working remotely, they know how to manage their time and work schedule around other commitments such as childcare or taking care of elderly parents.
The benefits of remote work are numerous, and with more people than ever before wanting to continue working from home even after the pandemic is over, it's likely that we'll see even more companies offering this option in the future.
Make an impact
As a tech expert, you have the power to make a huge impact on society at large. You just need to decide what career path or role is right for you. Many options are available to you, and it's up to you to choose the one that will allow you to use your skills in the most positive way possible. Whether you want to work in the public sector, help people with disabilities access technology, or develop new technologies for businesses, there's something out there that's perfect for you. The sky's the limit—all you need is determination and an open mind. So what are you waiting for? Train today to start making a difference tomorrow!
Additional Thoughts
You don't need to be a techno-geek to be successful in the information technology sector. There is no doubt that the technology industry is booming, and it seems like every company is looking for remote technology professionals. Not all remote IT careers are created equal, however. Before you decide to make the leap into the world of tech, weigh all your options carefully so that you learn the skills that not only fit the industry but that also fit your interests and unique personality.
A remote tech career doesn't require a four-year degree in computer science or engineering—in many cases, those degrees may actually hinder your success. So, develop the skills to enable you to chase your dream job in information technology. Learn a remote tech skill online with us. Contact RemoteMode and let us help you grow into the perfect tech career for you.
Take the first step to your new remote career!
Welcome Back!
Please enter your email and password to log in: