The Value of Certifications: Which certifications are important for entry-level jobs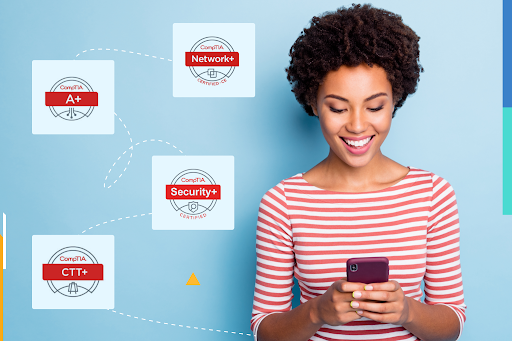 Getting your foot in the door for your first remote tech job is daunting. Potential employers want proof of your knowledge, skills, and capabilities. Industry-recognized professional certifications kick the door wide open to put you in a seat at the interview table. Many companies offer certifications in their particular products, including Microsoft, Oracle, and Amazon. A few training companies have created their own version of technical certifications.
The most recognized, most respected, and most widely applicable certifications in the IT industry, however, come from one provider—CompTIA, the Computer Technology Industry Association. CompTIA certifications are recognized worldwide as the badges of professional honor for those who have earned them. When hiring managers see one or more CompTIA certifications on an applicant's resume, they know that person has acquired top notch knowledge and skills that qualify them for the job.
When you consider a training program to launch you into your new remote tech career, look for a program that not only teaches you skills but also enables you to earn CompTIA certifications while you train. A CompTIA partner has the ability to train you so you are prepared to pass the CompTIA certification exams. You take the exams as part of your coursework so that when you pass the class, you have also earned your certification.
CompTIA offers many certifications in various technologies. The certifications most useful to you will be the ones that 1) are suitable for entry-level jobs, and 2) show your qualifications for the particular discipline in which you want to work. Below are the most sought-after and influential certifications for first-time technology job seekers.
CompTIA A+
The A+ certification is the recognized industry standard for anyone beginning a career in Information Technology. An A+ certification tells employers you understand the core technologies of the Digital Transformation. They know you can think on your feet and solve problems. This certification verifies that you are prepared to work on cloud solutions, security applications, data management systems, and much more. A CompTIA A+ certification is a must on every resume. Unless your training has earned you an A+, hiring managers will question whether you have the IT knowledge needed to do the job.
CompTIA Security+
Globally recognized as the baseline for core skills in security functions, CompTIA Security+ tells managers that you understand and appreciate the extreme importance of security in every information system. Both public-sector companies and defense organizations look to CompTIA Security+ to certify that employees are prepared to build and support systems that protect sensitive and confidential data. Virtually every job role in the tech industry requires a thorough understanding of up-to-date security protocols. Whether you are coding an application, configuring a network, or building a database, security must be at the top of your mind. CompTIA Security+ gives you the tools to meet the security challenges in today's cybersecurity environment.
CompTIA Network+
Businesses rely on networks like never before. Few business applications today can operate without network connections to user devices, servers, and databases. The CompTIA Network+ certification informs potential employers that you possess knowledge and skills to configure, troubleshoot, and manage network infrastructure. The Network+ certification is not just for network engineers. Software developers, database administrators, and even help desk agents must understand the workings of networks to do their jobs. The CompTIA Network+ certification prepares you to work on networks on any platform. You have the precise hands-on skills and knowledge companies need most in today's computing environment.
CompTIA Cloud+
Perhaps the biggest advance in the computing industry since electricity is the cloud. The majority of corporations either have moved their data center operations to a cloud provider or they are planning to. Knowing how to function in a cloud environment is essential to virtually every tech job role. CompTIA Cloud+ certifies that you have the skills to deploy and automate cloud systems that are secure and highly available. Whether you are a DevOps engineer, an application developer, or a security specialist, you must know your way around the cloud. A CompTIA Cloud+ certification signals to a hiring manager that you are ready to go to work in the cloud environment.
Final Thoughts
The above are just the tip of the iceberg of professional certifications you can earn as you begin and advance your career in the tech sector. CompTIA certifications are the secret sauce that will push your CV to the top of the stack on any hiring manager's desk. All else being equal, your CompTIA certifications make you more equal than others.
Turn to a training company that builds CompTIA certifications into the core curriculum. RemoteMode is an authorized CompTIA partner. Every career track in RemoteMode's extensive program includes CompTIA certifications. When you complete your chosen course of study at RemoteMode, you will be armed with the certificates that will open the doors to your future career. Contact a RemoteMode career advisor today to learn how quickly you can get certified and jump into the exciting job market of technology careers.
Take the first step to your new remote career!
Welcome Back!
Please enter your email and password to log in: