What Is the Value of CompTIA Certification?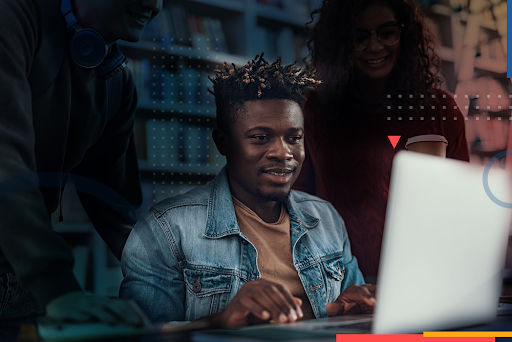 Professional certifications are the key to beginning your career in the IT industry. Tech jobs are booming in every sector of business. Companies of every size, from tech giants like Google and Microsoft to Fortune 500 conglomerates to innovative startups, are hungry for new talent to fill a plethora of job openings. Who are they looking for? People with certified knowledge and skills.
A valuable benefit of pursuing a career track training program with RemoteMode is the opportunity to earn CompTIA certifications while you are training. The Computer Technology Industry Association (CompTIA) is the premier tech industry certification company. They offer literally hundreds of top quality, highly respected certifications in virtually every area of IT. When interviewers see CompTIA certifications next to your name, they know you are qualified and ready to work. As an Authorized CompTIA Delivery Partner, RemoteMode has all the resources to ensure you earn the CompTIA certifications that will catch hiring managers' attention.
Why should I become CompTIA certified?
Professional IT certifications are the name of the game when you are launching a new career in Information Technology. Certifications demonstrate the knowledge, skills, and professionalism you offer a potential employer. While open positions in IT are plentiful, hiring managers need qualified people. Especially for entry-level tech jobs, hiring managers zero in on the certification badges they see at the top of resumes. No certifications carry more weight than CompTIA certs.
Which CompTIA certification is right for me?
CompTIA offers hundreds of certifications in dozens of IT specialties. The certifications you should add to your resume depend on the job role you want to fill. Particularly for people breaking into the IT job market, the best certifications are those that demonstrate your ability to maximize the use of computers and mobile technologies.
CompTIA's IT Fundamentals (ITF+) certification is the ideal choice for a person entering on an IT career path. It acquaints you with the foundational building blocks of computer systems—hardware, software, networks, and databases. A CompTIA ITF+ cert on your resume tells employers you are up to speed on terminology and concepts that underlie the entire computing infrastructure. ITF+ certification shows a potential employer not only that you have knowledge but that you are serious about your career objectives.
Aside from giving you a head start above other job seekers, as important as that is, CompTIA ITF+ provides you with valuable skills you can put to use right away. You will know how to set up a new computer, install the operating system, and implement applications. You learn how to configure a home office network and safely connect a computer to it. You will understand databases and file systems—critical knowledge for managing data and documents. And you will comprehend the essentials of computer and network security so you can protect yourself and your family from hackers, scammers, and other bad actors.
ITF+ is only the first step in the quest for certifications, however. As you pursue your in-depth training for a new remote tech career, CompTIA offers a number of certifications perfect for entry-level job seekers. These foundational certifications include:
CompTIA A+ – The industry-standard certification for initiating an IT career, this cert demonstrates your ability to configure operating systems, troubleshoot basic computer problems, find your way around networks and infrastructure, create data backup and recovery services, and apply core security best practices. A+ applies to virtually every career path in IT but is especially vital for Network Engineers and Help Desk Engineers.
CompTIA Network+ – This certification helps you prepare to configure, manage, and troubleshoot IT networks. Beyond network fundamentals, Network+ covers network security, implementation, and operations. The Network+ cert is essential for Cloud Engineers and Network Engineers and is also helpful to Database Administrators, Security Specialists, and Help Desk Engineers.
CompTIA Security+ – As a baseline for core IT security operations, this certification shows you can:

Assess an organization's security posture.
Monitor and secure networked environments.
Operate within the governance of risk policies and regulations.
Identify, analyze, and respond to security threats.
Security+ is a must-have for Security Analysts but comes in handy for Database Developers and Network Engineers.
CompTIA Cloud+ – With cloud computing taking the IT industry by storm, the fundamentals of cloud infrastructure and operations are critical tools for future IT professionals. This certification highlights your ability to deploy and automate secure cloud environments. Cloud+ is obviously an essential certification for Cloud Engineers and DevOps Engineers, but it is likewise a critical component for Software Developers.
What is the secret behind CompTIA certifications?
The job outlook for IT Professionals is astounding! The U.S. Bureau of Labor Statistics projects that tech jobs will grow by 13% over the next ten years. That's three times faster than the average job in any other industry. IT is the career to pursue for the foreseeable future.
So, how does a person looking for a high salary, career growth opportunities, fulfilling work, and a flexible work environment break into the IT job market? That is the secret of CompTIA certifications. The Computer Technology Industry Association's certifications are globally recognized and professionally respected. More companies send their employees to training for CompTIA certifications than for any other certification program. If a manager can hire a certified professional, the company is way ahead. CompTIA certifications are the secret sauce that moves your resume to the top of the pile and opens doors to initial interviews.
Final thoughts
RemoteMode, an Authorized CompTIA Delivery Partner, offers a fast-track "IT Professional" program that prepares you to pass the CompTIA ITF+ exam in as little as four hours of online training in the comfort of your own home. You can earn your first CompTIA certification in one or two days.
In this short, fast-paced course, you will not only learn valuable computer skills, but you will also attain an overview of many of the career paths open to you as an IT Professional. With ITF+ under your belt, you can make an informed decision about the IT career track you should pursue. As a valuable incentive, RemoteMode will refund the cost of the "IT Professional" program when you upgrade to one of their full-cycle career track programs.
Now that you know the secret of CompTIA certifications, contact a RemoteMode career advisor today to enroll in the "IT Professional" course to begin your journey toward an exciting remote tech career.
Take the first step to your new remote career!
Welcome Back!
Please enter your email and password to log in: