4 Hidden Tech Jobs Perfect for Economics Majors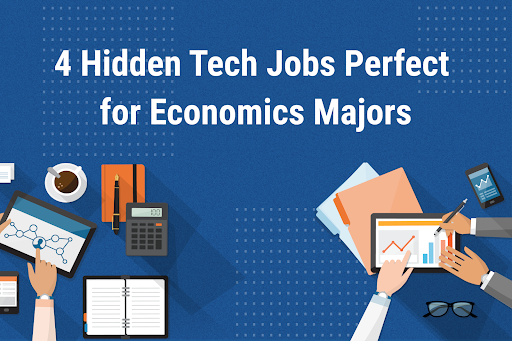 A degree in Economics has prepared you well for a number of fascinating careers. Some careers for Econ majors are obvious, such as economist, financial risk analyst, and accountant. In the last few years, the tech industry has discovered the value of an Economics education, and they are hiring Econ graduates not only to handle the financial aspects of their companies, but to play some unexpected roles for which the rigors of number crunching and analysis are critical to success.
An Economics degree means more than just looking at spreadsheets. You have learned valuable problem-solving and analysis skills. You know the importance of both detail orientation as well as big-picture thinking. You have learned how to turn data into information. You have worked on teams and completed complex projects. And you can certainly find your way around a computer. These skills make a solid foundation for working in the tech sector in a wide range of industries.
We'll let you know about four tech jobs that are particularly well suited for your background, provided you add one additional ingredient—training in a technical specialization that, combined with your existing skills, can be the trigger to launch you into a fabulous remote tech career.
Project Manager
A successful Project Manager for technology development projects has mastered three crucial skills:
Financial management
People management
Communications
Having pursued a degree in Economics, you have already immersed yourself in areas that seamlessly correlate with the essential skills demanded in the tech industry's Project Manager position. Your academic journey has provided you with a strong foundation, aligning harmoniously with the requirements of this role. The skills and knowledge you have acquired throughout your studies perfectly equip you to excel as a Project Manager in the dynamic world of technology.
Project managers are the masterminds who juggle and steer various projects in a plethora of industries. They play a crucial role in keeping things on track by overseeing a team and ensuring that every aspect of the project runs smoothly and efficiently. Economics graduates possess the perfect blend of reasoning abilities, allowing them to make astute managerial decisions. Their knack for communication enables them to guide their teams towards triumphant outcomes.
Demand for project managers is expected to grow faster than other occupations over the next decade. According to a talent gap analysis, the project management workforce in seven sectors will increase by 33%, creating nearly 22 million new jobs by 2027. By that year, employers will need around 88 million individuals in project management roles. China and India will account for over 75% of project management employment. The scarcity of skilled project managers could risk $208 billion in GDP across the studied countries over the ten-year period.
Security Specialist
The primary role of an Information Technology Security Specialist is to protect the digital data and systems of a company. To perform well in this job, you must know, understand, and update security policies, investigate anamolies, test potential vulnerabilities, forecast trends, and plan security upgrades. While you may spend some of your time interacting with technologists, much of your time is spent educating and reporting to computer-systems end users and high-level decision makers.
Your degree in Economics has prepared you in many ways to fill the role of a Security Specialist. You understand forecasting, investigating, analyzing data, identifying trends, and planning. You appreciate the criticality of data security and integrity. And you know how to help others learn and comprehend what you know.
As per the US Bureau of Labor Statistics, the employment outlook for information security analysts appears to be incredibly promising. This occupation is anticipated to experience a remarkable growth rate of 33% between 2020 and 2030, which is considerably faster than the average rate for all professions. The need for information security analysts is predicted to be in high demand due to their critical role in preventing cybercriminals from stealing confidential data or causing chaos within computer networks. On average, around 19,500 job openings for information security analysts are expected to emerge every year over the coming decade.
Help Desk Engineer
The skills of the best Help Desk Engineers are part technical and part personal. Knowing how to solve a computer user's problem is one thing; knowing how to communicate the principles behind the solution, so the user can solve their own problem next time, is priceless. Everything you have learned during your university education about working with people and communicating ideas has provided you with a bedrock of skills for succeeding in this role.
As a Help Desk Engineer/Tech Support Representative, you will use your strong communication and problem-solving skills to assist computer users with technical issues. You will need to be patient, empathetic, and able to explain technical concepts clearly to non-technical individuals.
According to the US Bureau of Labor Statistics, employment of computer support specialists is projected to grow 6% from 2021 to 2031, about as fast as the average for all occupations. About 75,000 openings for computer support specialists are projected each year, on average, over the decade.
In addition, technical support engineers are in high demand and experience high levels of job satisfaction. Most technical support engineers work in the field for around 20 years before moving into other tech roles outside of support.
Python Developer
The Python programming language has recently come to the forefront as the premier computer technology for analyzing Big Data. As an economist, you have worked with large data sets to derive critical findings and determine trends. Many Python Developers know the programming language, but they do not understand the context of the problems they are asked to solve. Your Econ degree puts you in the forefront of Big Data analysts, and when you learn Python, you can become a powerhouse developer who can extract and visualize information from the mountains of data that can be mined.
Python, a versatile programming language, finds extensive application across diverse domains. Its uses span a wide spectrum, including application development, automation testing, database accessibility, machine learning, and pattern recognition. Furthermore, Python serves as a prevalent choice for website and software development, task automation, data analysis, and data visualization.
As a Python Developer, your responsibilities encompass writing and testing code, debugging programs, and integrating applications with third-party web services. Success in this role hinges upon your proficiency in server-side logic and your ability to collaborate effectively within a team. The hiring forecast for Python Developers appears optimistic, with the US Bureau of Labor Statistics projecting a notable 21% growth in software developer employment until 2029.
Final Thoughts:
An Economics degree offers numerous hidden tech job opportunities that align perfectly with your skills. Whether as a Project Manager, Security Specialist, Help Desk Engineer, or Python Developer, your Economics background equips you for success in the tech industry.
These roles have a positive hiring forecast and promising growth prospects. To seize these opportunities, consider exploring RemoteMode, which provides remote courses and specialized training for remote tech careers. Combine your Economics background with technical expertise to embark on a remarkable journey in the tech sector. Unlock your potential by contacting a RemoteMode career advisor today!
Take the first step to your new remote career!
Welcome Back!
Please enter your email and password to log in: