6 Characteristics of an Effective Remote Learning Program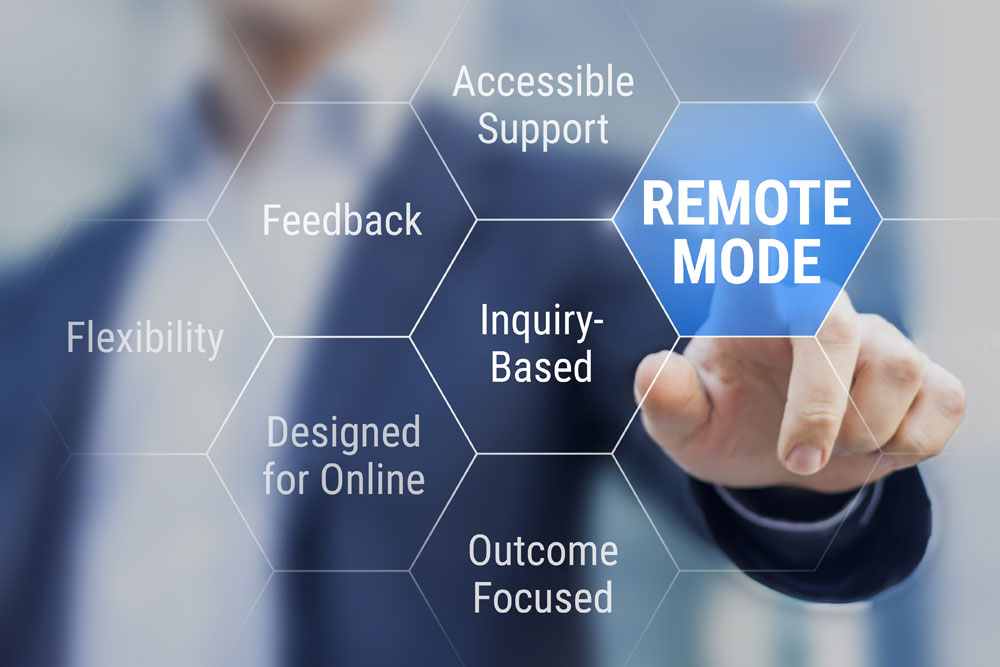 Succeeding at remote learning requires a combination of a motivated learner and professionally designed learning experiences that exploit technology. Successful learners are independent, active, organized, disciplined, adaptive. If this describes you, you are ready to excel in an online training curriculum. Let's look at the other side of the equation—the remote learning program.
These are all excellent reasons to engage in online learning. Not all online courses are created equal, however. The COVID-19 crisis, which forced many unprepared teachers and students into an online learning environment, has taught professional educators what doesn't work:
Trying to recreate a classroom experience through video conferencing.
Lowering standards for student performance.
Cutting classroom activities that are too hard to recreate online.
Depending on daily or weekly reading assignments with no interaction.
Going to a pass/fail grading system based on online attendance.
What should you look for in a remote training program that will make the most of your readiness to learn?
#1 – Feedback
Interaction and feedback between the learner and the teacher are crucial. Learners must have access to teachers and mentors to whom they can pose questions and receive timely answers. Qualified, knowledgeable teachers can provide feedback in a number of ways:
Quizzes
Assignments
Exercises
Discussions
Interactive exchanges
Unless the learner receives meaningful, timely feedback on progress, even the most polished instruction and intense learner motivation will fail to achieve the goal.
#2 – Flexibility
A flexible schedule, pace, and location help learners find a healthy balance in work, life, and learning. The asynchronous nature of properly designed remote learning provides you with options to learn when and where it is most convenient and conducive. Many programs simply substitute online attendance for physical attendance while still keeping to a rigid semester schedule with a predetermined calendar of activities, assignments, and exams. The best programs provide for anytime learning in which the learners set their own pace as to both the duration of a learning session, the frequency of sessions, and the points at which the learner completes exercises and takes assessments. This defines a student-focused rather than teacher-focused program.
#3 – Designed for Online
Online learning is not just a different medium for the same old material. Rather, it is a different approach to education. You cannot simply film a live-classroom lecture and post it online and call it a remote learning course. Distance learning must be designed into every aspect of the learner experience. An effective remote learning program is designed from the outset with online in mind. A well-designed online program takes advantage of the opportunities technology provides to engage the learner and enhance the learning process.
#4 – Accessible Support
Support for learners comes in several forms. Teacher support is important, of course, as discussed earlier in the form of feedback. Also crucial is technical support. Nothing is more frustrating than a glitchy video or a frozen screen interrupting the only hour you have today to study. Good technical support begins with professionally designed and implemented technology. Still, when things go wrong, the ability to call the help desk and speak to a live technician who can troubleshoot the problem is indispensable.
#5 – Inquiry-Based
Learning is at its best when the learner is solving a problem or finding a relevant answer to a real question. A well-designed remote learning program provides opportunities for learners to explore topics, piques their interest, and offers options for assignments the learners find challenging and interesting. Exercises and projects that are taken from real-world examples and simulate the actual situation to which the solution applies produce optimal learning and rapid progress.
#6 – Outcome Focused
A good remote learning program starts with the end in mind. You "hire" an online course to provide you with specific skills and knowledge to enable you to achieve a goal, whether that goal is to advance in your current job or perhaps shift into a new career. Taking courses at random will not fill the bill. The right program focuses on the exact skills you need because it is designed by people who know the industry you are in or are moving to. When the curriculum designers know what it takes to succeed as a professional in the target industry, they will lay out a course that puts you exactly where you want to be when you are finished.
Conclusion
RemoteMode's training program is not a retread of a traditional classroom curriculum. It was conceived from the ground up as an entirely remote learning experience. The courses are designed by professionals in the I/T sector who know how to do the jobs you want to prepare for. RemoteMode's full-service program not only delivers professionally produced instruction modules, it also includes simulated project labs based on real-life problems and industry-typical projects. RemoteMode's program includes full-time tech support to ensure your access to courses and materials is uninterrupted. Because the program is totally remote, you have the flexibility you need to study whenever and wherever you want. And you are assigned mentors and career coaches to answer your questions, provide guidance and feedback, and help you walk your path to success.
RemoteMode is the ideal training program to enable today's motivated, independent, active learners to make the leap from status quo to the remote tech career of their dreams. Contact a RemoteMode career counselor today to learn how quickly and affordably you can prepare for your big career move.
Take the first step to your new remote career!
Welcome Back!
Please enter your email and password to log in: