6 Strategies for Successful Online Training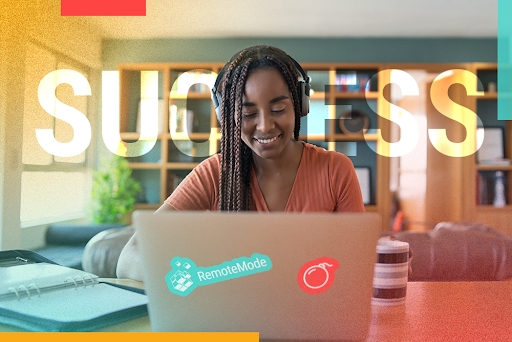 Millions of people enroll in online education and training courses every year. They begin their online classes with determination, enthusiasm, and high hopes. Somewhere along the way, however, many falter in their progress, get distracted, overwhelmed, and discouraged, and fail to finish what they started. Their money and time are wasted, and their self-confidence takes a heavy blow.
Remote learning is an excellent path to learn new skills and knowledge that can launch you into a new career. Online training offers many advantages over traditional brick-n-mortar school settings. You have flexibility, convenience, and lower costs. Online learning also presents challenges. Don't take the hurdles lightly, but they don't have to get in your way. With the six strategies and tips offered below, you can have a fabulously successful online training experience that will set you up for an exciting new job in less time than you may think.
Tip #1 – Be organized
Organization is the key to success in any endeavor. Ensure you have access to all the resources you will need for learning online: computer, internet, course materials (such as ebooks, videos, the course website), and materials or a system for taking notes. Practice using the online system before starting the actual course. Make sure you know how to log in. When you are organized ahead of time, you can concentrate during your study session on learning without being distracted by the details of the learning process.
Tip #2 – Establish your workspace
Part of being organized is creating an effective workspace for learning. You need a space, whether it's a home office or a corner in the basement, that you can exclusively dedicate to studying. If you do not have room in your home, consider a nook in a public library. Your study area should be equipped with everything you need, ready to go. Try to avoid setup and takedown activities. You want to be able to simply sit down and start your coursework. If it takes you ten minutes to get everything out and set it up and ten more minutes to put it all away, you've lost twenty minutes of an hour study session. It is also important to remove distractions from your study space: noise, visual clutter, and disruptions (human and technical). Ensure you have adequate light (natural light is ideal) and a comfortable chair.
Tip #3 – Manage your time
Along with organizing your materials and workspace, you must also organize your time. Define a reasonable schedule and stick to it. Many students start with high expectations that they will devote every waking moment to studying so they can finish the course quickly, only to find out that life gets in the way. They get discouraged and quit. The key is to be realistic and persistent. Pick consistent start and end times for studying on designated days. It helps to review the syllabus for your course, identify the milestones you must meet along the way, and set yourself a deadline by which to finish. Then, stick to your plan. Self-paced and flexible does not mean haphazard and willy-nilly.
Tip #4 – Participate actively
Once you get started in your remote training course, be an active participant. You are in charge of your own learning. Don't be afraid to ask questions. Speak up if you encounter problems or don't understand something. It is better to slow down and make sure you are learning your new skills and knowledge well than to hurry through a course, fail the test, and have to go back and repeat modules. Training is not a hundred-yard dash. It is more like a marathon. The winners run at a pace they know they can finish, and they don't miss any milestones.
Tip #5 – Be accountable
Remote training is the first step to your new remote tech career. You must be just as accountable as a student as you will be as an employee. Accountability means self-motivation and self-discipline. No one is going to tell you it's time to study, just like your future boss is not going to call you and tell you it's time to go to work. At the risk of being repetitious: Stick to your plan. Keep your end-goal in mind. Your training goal is not to finish the course but to begin a new career, make more money, and live a better life. Let the vision for tomorrow motivate your actions today.
Tip #6 – Manage stress
Don't be fooled. Learning is stressful, and learning remotely may be even more stressful than learning in a classroom. Be wise in managing your stress. Take breaks to give your mind and body a chance to rest and re-energize. Make realistic plans. Ridiculous deadlines and unreal expectations are major stress builders. Turn off technology. Give yourself a break from screens and keyboards. Exercise is crucial to stress management. The brain chemicals released through exercise are natural stress-busters. And don't forget to socialize. Remote training is a solo act that can leave you feeling isolated and lonely. So, make time for family and friends.
Final Thoughts
Successful learners exhibit a predictable set of characteristics:
Log in regularly
Manage their time
Commit 6-9 hours a week to studying
Take notes as they study
Have basic computer skills
Take responsibility for their own learning
RemoteMode offers an outstanding online training program for more than a dozen high-demand remote career paths. By following the strategies for successful online learning, you can prepare yourself for a career in the tech industry in just a few months. Let RemoteMode's full-service program set you up for a great job that can change your life. Visit the RemoteMode website or contact a RemoteMode career counselor today to learn how quickly and affordably you can train for a fantastic remote tech career.
Take the first step to your new remote career!
Welcome Back!
Please enter your email and password to log in: