Building Your Social Media Network: Join the Professional Community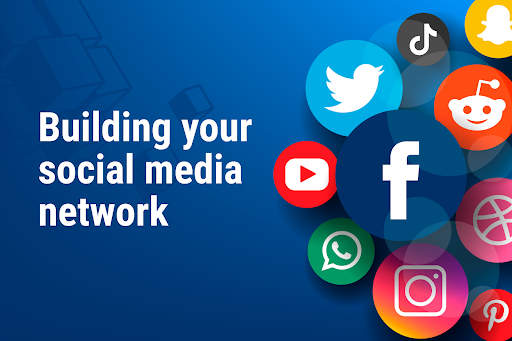 When Facebook exploded onto the internet stage, the world was introduced to the concept of social media. People could choose to put their private lives on display, sharing experiences, likes and dislikes, opinions, recipes, and cute cat videos to their hearts' content.
The power of social media, however, is not about meme's and funny videos. The true value of social media is the connections it creates. People could interact with family, friends, co-workers, and others who share common interests around the world. The earth shrank in size and national borders disappeared because of social media technology.
While popular social media platforms like Facebook, Twitter, Instagram, and WhatsApp have changed the way you interact with people you know, they have also become an excellent source for making new acquaintances. Building new connections with knowledgeable and influential people is particularly important when you are looking for a job and changing careers.
The old adage stands: it's not what you know but who you know when it comes to finding a job. Creating a compelling professional social media profile and building a network of professionals in your targeted industry is crucial in your hunt for your next job.
RemoteMode's career preparation program includes expert assistance in creating your professional social media network to help you find the remote work job of your dreams. Below are just a few ideas to help you get started in establishing a valuable professional network.
Be Professional
The Number 1 tip for creating an effective professional social media network is the keyword "Professional." Take care to clearly separate your professional profile from your personal profile. Create a new account with a new username for your professional presence. You can still post photos of your latest culinary creation and your pet turtle on your personal profile, but keep your professional profile professional.
Your profile photo should be you looking your best, dressed in appropriate business attire, groomed for the job role you want to fill. Create a username that includes your full name and doesn't include gamer tags and other non-professional references.
Focus your profile description and biography on your job-related interests, training, and experience. Be personable and authentic, but don't be silly. Let your personality shine, but keep your weird idiosyncrasies to yourself.
Be aware that potential employers will regularly hunt you down on social media when they are considering whether to interview you. Your professional social media profile, along with your CV, creates your first impression with employers.
And while you are at it, you might consider cleaning up your personal profile as well. You cannot guarantee that hiring managers will look only at your professional profile. Don't shoot yourself in the foot by posting things about yourself at your wildest and craziest worst.
Be consistent across all platforms
To cover the widest audience and attract the most connections, be present on all the popular social media platforms. Not all platforms may necessarily appeal to you or suit your style, but create a profile on those that will work best for you. The website DreamGrow.com lists the fifteen most popular social media platforms. Check them out and see which ones would work best for you and attract the professional connections you are looking for.
No matter how many platforms you use, the key is to post a consistent profile. Use the same username, post the same profile image, and include the same profile description and biography. Be the same person on every platform. No matter where the employer looks, they should see the same information about you.
Also, update all platforms consistently. If you post something on Facebook, post the same thing on all your other platforms.
Be active
It is not enough to simply post a profile. To build a network of working professionals who can hopefully help you reach your goals, you must be active on the social network.
You need two kinds of activity: Proactive and Reactive. You are proactive when you post your own content. Perhaps you write a weekly blog or record a regular vlog. If you are not verbose, maybe a short post on Facebook and a tweet on Twitter are your style. But whatever form your proactive interaction takes, be regular. Give readers something interesting and informative to read or watch, and always invite them to return for another installment. Invite viewers to share your posts and follow you.
Reactive actions are what you say about other people's profiles and posts. Search out people on your social media platforms who are in the industry or job role you want to get into. Read their posts, and don't just "like" them, but respond to them with comments. If people who follow that person like your comments, they may jump to your profile and start following you.
As you make connections and follow professionals in your intended line of work, see whom they follow, and reach out to that next level in the network.
Also, follow thought leaders in your field and comment on their posts. This is an excellent way to pick up influential followers for your profile.
Businesses also maintain social media profiles. Look for the companies that employ the people you follow and start following those companies. Become familiar with the news items they post. If you get the chance to interview with one of these companies (which is the goal of creating your social media network), the interviewer will be impressed if you know the latest information about what their company is doing and saying on social media.
Promote your social media profile
Healthy self-promotion is a good thing. Add your social media profile links to your signature block on emails and other correspondence. Let people you communicate with know where to find you.
It is also smart to interlink your profiles on the various platforms. Many systems provide a place in your profile where you can enter URLs to your other platforms. If a viewer stumbles across your profile on Twitter, but they prefer WhatsApp, help them easily jump to your profile on the other platform.
Final Thoughts
Creating an active social media network can help you in your job search in two ways.
If you see a listing for an open position at a particular company, see if you are connected to a current employee at that company. Start a conversation with the employee about the position, learn what you can about it, so you can personalize your CV and cover letter to the company. Your connection might even be willing to mention your name to the hiring manager and give them a heads-up that you want to apply for the job.
It is common for current employees to know about an opening in their department before a job is formally posted. They may be able to tip you off about the upcoming opportunity. You can submit your resume early, and perhaps even send it directly to the hiring manager instead of getting stuffed into the mountain of applications in the HR department. A direct connection can give you an advantage in the hiring process.
These are simply a few ideas for building a professional social media network to accelerate your career goals. A highlight of the RemoteMote career training program is guidance by an expert in building and maximizing your social media network. You don't have to figure it out on your own. RemoteMode gives you the help you need to create an effective network.
Along with professional produced training and expert social media guidance, RemoteMode offers a host of other services as part of their full-program package. You are assigned a professional mentor to guide your learning and a career counselor to help you craft an attention-grabbing CV and prepare for your first job interview. You get an immersive learning experience with Virtual Lab projects that simulate real-life projects.

Don't let another day go by without learning how quickly and affordably you can learn the skills and get the support you need to pivot to a challenging and rewarding remote tech career. Contact a RemoteMode career advisor today to learn about their unique and effective online career preparation program.
Take the first step to your new remote career!
Welcome Back!
Please enter your email and password to log in: