Can an Online Course Really Teach Me to Code?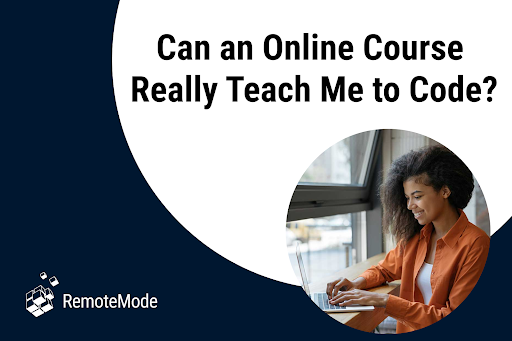 Brick-n-mortar schools are inconvenient, inflexible, and expensive. You have to commute to the campus, which means you are limited to schools that are within your commute range (or you have to move to a new location). Semester schedules are typically locked in, so you can start your program only when the school says you can start, and you have to keep up at their predetermined pace. You pay not only for your classes, but your high tuition goes for the upkeep of the campus, the sports programs, and the administration. Plus you must factor in the costs of parking and expensive textbooks.
Many universities are moving to online courses to attract distance learners, but the courses are often slide-show versions of the same lectures given in the classroom. They are not optimized for the online learning platform. And you are still stuck with strictly scheduled semesters.
You can find many websites that claim to teach information technology and coding, but they are not accredited, they offer little or no learner support, and their main purpose is to collect your money rather than teach you marketable skills.
So, what if you could find an education company that avoids the downsides of brick-n-mortar schools, offers bona fide training at a fraction of the cost, lets you learn on your schedule and pace, provides courses designed from the ground up for the online world of remote learning, sports legitimate accreditation, partners with the Information Technology Industry's leading IT certification company, and is dedicated not just to training you but to getting you hired in the remote tech career of your dreams?
Impossible? Let us introduce you to RemoteMode.
Courses designed by industry experts for online learning
RemoteMode offers courses that are designed by industry experts specifically for online learning. These courses provide students with the opportunity to learn from professionals who have extensive experience in their respective fields, and who are able to provide valuable insights and practical knowledge.
One of the key benefits of taking a course from RemoteMode is the convenience of being able to learn from anywhere, at any time. With the flexibility of online learning, students can fit their studies around their busy schedules and learn at their own pace. This makes it an ideal option for those who may not have the time or resources to attend a traditional classroom-based course.
Self-paced courses put you in the driver's seat for your learning
Self-paced courses are an excellent option for those looking to take control of their learning and work at their own pace. At RemoteMode, we offer a variety of self-paced courses that allow you to learn on your own terms.
One of the biggest advantages of self-paced courses is the flexibility they offer. With a self-paced course, you can set your own schedule and work through the material at a pace that works best for you. This is especially useful for those with busy schedules or who may have other commitments that make it difficult to stick to a traditional class schedule.
In addition to the flexibility, self-paced courses also allow you to focus on the topics that interest you most. With the ability to skip over material that you already know or focus more time on areas that you find more challenging, you can tailor your learning experience to your own needs.
Remote learning prepares you for remote work
Remote learning can be an excellent way to prepare yourself for remote work. As more and more companies embrace remote work as a viable option, having the skills and experience to be successful in a remote learning environment can give you a significant advantage in the job market.
One of the key benefits of remote learning is the opportunity it provides to develop strong self-motivation and self-discipline. With remote learning, you are responsible for setting your own schedule and ensuring that you complete your work on time. This can be a challenging adjustment, but it is an essential skill for those who work remotely. By learning how to stay organized and motivated while working independently, you can set yourself up for success in a remote work environment.
CompTIA Certifications are built into the courses
As a CompTIA authorized partner, RemoteMode is committed to providing high-quality training and resources to help individuals earn industry-recognized CompTIA certifications. These certifications are widely recognized as the industry standard and can give you a significant advantage in the job market. Nine out of 10 employers prefer to hire certified specialists, and 96% of HR managers use IT certifications as hiring criteria during recruitment.
By enrolling in a course with RemoteMode, you'll have the opportunity to earn a CompTIA certification as part of your learning journey. These certifications are designed to validate your skills and demonstrate your commitment to ongoing learning and development. Not only can a CompTIA certification give you a competitive edge in the job market, but it can also help to future-proof your career and give you a sense of accomplishment and confidence in your skills.
Final Thoughts:
An online course by RemoteMode can be an excellent way to learn how to code and achieve your career goals in the tech industry. Our courses are comprehensive, interactive, and supported by experienced instructors and a range of resources. If you're ready to take the first step towards learning to code, don't hesitate. Contact a RemoteMode career advisor today and explore the wide range of courses we offer. With a little hard work and dedication, you can be well on your way to mastering the skills you need to succeed in the tech industry.
Take the first step to your new remote career!
Welcome Back!
Please enter your email and password to log in: