How to Polish Your CV to Push It to the Top of the Stack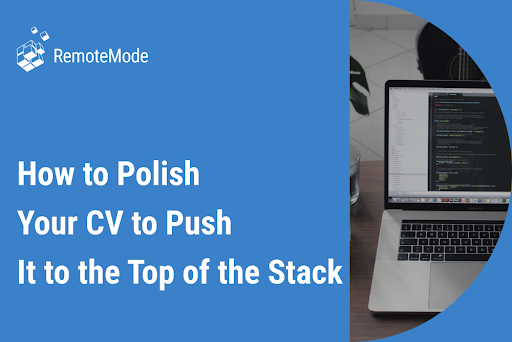 On average, recruiters only spend six seconds reviewing a CV (i.e., Curriculum vitae or resume) before deciding whether to move forward with a candidate. This might seem like a short amount of time, but it's important to understand that recruiters are scanning resumes rather than reading them thoroughly. They are looking for specific keywords that align with the job requirements, and if they don't see those keywords, they will move on to the next resume quickly. If you want to stand out and get more than six seconds of a recruiter's attention, it's important to optimise your resume with relevant keywords and emphasize your relevant experience. Of course, it's also essential to ensure that your qualifications match the requirements of the job opening you are applying for. If you don't have the necessary experience or skills, even the most well-written resume is unlikely to result in a response from the recruiter.
Here are a few tips to polish your CV.
Tip #1 – Keyword Research
To increase your chances of getting a response from a recruiter or employer, it's important to understand what keywords they might be looking for when reviewing your resume. The best way to do this is to review the job posting and make a list of all the relevant keywords. Once you have your list, you can incorporate these keywords throughout your resume wherever they are relevant to your skills and experience. This will help to highlight the ways in which your qualifications match the requirements of the job and make it easier for the recruiter to see that you are a strong fit.
Additionally, it's important to pay attention to the placement of these keywords on your resume. By placing them prominently, you can increase the chances that they will be noticed by the recruiter during their initial scan of your resume. Keep in mind that some companies use databases and keyword filters to screen applicants, so it is important to carefully review the job description and include relevant keywords in your CV.
Tip #2 – Make it targeted
To make your resume more effective, you should tailor it to the specific job you are applying for. Remove any information that is not relevant to the position you want. For example, if you are applying for a Java SE 9 Developer job, it may not be helpful to mention your previous experience in retail or a restaurant.
It is important to not use the same resume for every job application, regardless of the industry or position. Using a generic resume for all job applications is a lazy strategy and is unlikely to be successful.
Tip #3 – Customize for the job you want
To tailor your application to the specific job role, it is important to understand the requirements of the position and demonstrate how your achievements align with them. This will make your CV stand out to employers. It may take more time to customize your application for each role, but the effort will be worth it if it helps you secure the job you desire.
Tip #4 – Use power words
To make your CV more impactful and showcase your accomplishments, consider using strong, descriptive words like "adaptable," "innovative," "implemented," and "achieved." Follow these words with specific examples of your results and achievements to illustrate the value you have brought to past positions. 
Tip #5 – Utilize your skills section
Your skills section is a crucial part of your CV and should be given careful consideration. It should be prominently displayed on the first page of your CV, above your work experience, and should consist of a list of your most important skills in bullet point format. These skills should be relevant to the job you are applying for and should be highlighted using keywords from the job description to increase the chances of your CV being selected by an applicant tracking system (ATS). The purpose of this section is to showcase your strengths and experience and should be treated like a highlights reel of your most valuable skills.
Final Thoughts
Polishing your CV is crucial to make it stand out among the competition. By highlighting your most relevant skills, using keywords from the job description, and presenting a clean and organized document, you can increase your chances of getting noticed by potential employers.
If you're looking to improve your IT skills and give your CV a boost, consider using RemoteMode's platform to learn and enhance your abilities. With a wide range of courses and expert instruction, RemoteMode is a valuable resource for anyone looking to advance their career. As part of our program, we connect you with professional career advisors who are experts at writing job-winning resumes. So why wait? Start polishing your CV and take control of your professional future with RemoteMode. Contact a RemoteMode career advisor today!
Take the first step to your new remote career!
Welcome Back!
Please enter your email and password to log in: