Hands-on Experience Can Tip the Scales in Landing a Job Offer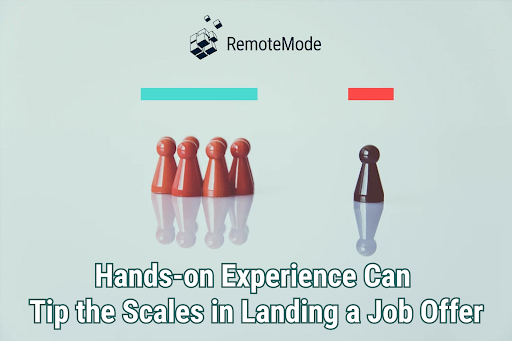 You know the old adage:
You can't get a job without experience, and you can't get experience without a job.
While the first part of this couplet contains some truth, the second part is a myth. Yes, paid on-the-job experience is an extremely valuable asset when you are looking for a new job. Your work history plays an important role in convincing a potential employer of your value to their company. Employment, however, is not the only way to get crucial experience to put on your resume.
Particularly when you want to change careers and do something entirely new, you may wonder how you can generate the kind of experience that an employer will appreciate. Keep in mind that most applicants for entry-level positions are in the same boat. They are trying to break into a career in remote tech work just like you are; and just like you, they lack bona fide experience. Employers know this. They tailor entry-level jobs for people with little or not experience.
But, what if you could get real experience in your chosen field even before you land your first job? What if you could show a hiring manager real projects as examples of your skills and capabilities? What if you could make your resume sparkle with descriptions of genuine work you have accomplished and discuss in your interview the problems you solved and how you solved them? You would leap head and shoulders above the competition.
In the article below, we'll show you several novel methods to gain valuable and credible experience in your chosen area of expertise, including what in our opinion is the very best way to get experience that will speak volumes to a prospective employer.
Build a home lab
If you want real-life experience, you have to expect to get some grease under your fingernails. Well, not literal grease if you are working with computers, but if you are focused on job roles such as Windows Network Engineering, Cloud Engineering, Security Specialist, or Help Desk Engineer, nothing beats getting your hands on hardware and tinkering. We're not talking about a million-dollar data center. Servers, workstations, and network devices are upgraded so frequently these days that you can usually pick up used equipment for next to nothing through eBay, your local classified listing services, or even Amazon.
Moreover, working with physical equipment can also help you develop a deep understanding of how different components work together in a real-world environment. This can be particularly valuable when it comes to troubleshooting issues that arise in production environments. By having a solid understanding of how hardware and software interact, you can quickly identify the root cause of problems and implement effective solutions.
Volunteer your services
Volunteering is an excellent way to gain hands-on experience while also giving back to your community. Many non-profit organizations, schools, and small businesses are in need of skilled technical assistance but may not have the budget to hire a full-time employee. By offering your services pro bono, you can gain valuable experience, expand your professional network, and potentially receive glowing recommendations from those you've helped.
To get started, research local organizations that align with your interests and reach out to them to inquire about their technical needs. Be prepared to explain your skillset and how you believe you can make a positive impact on their operations. If you're unsure where to start, websites like VolunteerMatch or Idealist can be helpful in connecting you with potential opportunities.
Re-create existing solutions
Create your own version of a word processor, build a mobile calendar app, or code an interactive web application on which users can create accounts, sign in, and select options. See first hand what problems the original developers had to solve and then come up with your own solutions. By replicating and improving upon existing solutions, you'll gain a deeper understanding of the design and development process, explore various technologies and frameworks, and learn how to solve real-world problems.
For example, you could create a simplified version of a word processor that includes essential features such as text formatting, spell-checking, and file-saving capabilities. In doing so, you might explore programming languages like Python or JavaScript, and libraries or frameworks such as React.
Earn professional certifications
Industry-recognized certifications, such as CompTIA's A+, Security+, and Network+ certifications, demonstrate that you not only have knowledge, but you know how to apply that knowledge in real-world situations. Earning these certifications can boost your credibility and help you stand out to potential employers, even if you don't have direct job experience.
In addition to CompTIA certifications, there are many other certifications available for various fields, such as Microsoft Certified Solutions Expert (MCSE), Cisco Certified Network Associate (CCNA), Project Management Professional (PMP), and Google Cloud Professional certifications. These certifications typically require you to pass a written exam, and some also involve practical or lab-based assessments.
While preparing for these certifications, you'll gain valuable hands-on experience through studying, completing practice exams, and working on lab exercises. Many certification providers also offer study materials and courses to help you prepare for the exams. Be sure to include your earned certifications on your resume and LinkedIn profile to showcase your expertise and commitment to professional development.
Complete projects as part of formal training
Projects you work on as part of your tech training are valuable additions to your resume. These projects demonstrate your ability to apply the skills and knowledge you have acquired in a structured learning environment to real-world scenarios. Whether you're pursuing a degree, attending a coding bootcamp, or taking online courses, make the most of the projects and assignments you complete throughout your training.
When selecting a training program, look for one with a strong emphasis on hands-on learning and real-world projects. This approach will help you build a portfolio of work that showcases your abilities to potential employers. As you progress through your training, document your projects, including the objectives, technologies used, and any challenges you faced and overcame.
Final Thoughts:
RemoteMode's Virtual Lab projects enable learners to build portfolios of work you can show to potential employers. Virtual Lab projects are based on real-life problems encountered by technology professionals every day. They give you the opportunity not only to hone the skills you have learned but to expand and grow skills in new areas. As the projects increase in difficulty, you increase in expertise and confidence.
RemoteMode projects are especially valuable in your plans for a new career because they are designed by industry experts, and your results are reviewed and critiqued by professionals in your particular field. These experts do not simply grade your projects, they give you invaluable feedback to help you learn and improve. When you complete a Virtual Lab project, you have demonstrated competence and capability that employers will recognize.
Of all the ways to acquire the holy grail of experience in remote tech work, RemoteMode's Virtual Lab projects offer you the premier way to make employers take notice and treat your resume with the respect it deserves.
Contact a RemoteMode career advisor today to put yourself on the path to knowledge and experience that will put you ahead of the competition for the best entry-level jobs in the technology industry.
Take the first step to your new remote career!
Welcome Back!
Please enter your email and password to log in: