How the Pandemic Altered the Landscape of Remote Tech Careers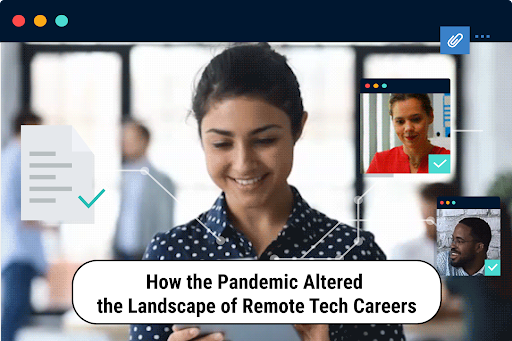 Introduction
Remote tech careers have always been popular, but the COVID-19 pandemic made them more attractive than ever before.
The pandemic changed the landscape of tech jobs by forcing companies to hire remote workers. In a world where people were unable to get out of their homes, companies were forced to hire people who could work remotely to keep their business running during the crisis. The demand for remote workers increased as well because they were less likely to get sick than in-house employees who had more contact with other people.
With more people working remotely than ever before, opportunities for remote tech careers are plentiful. In this blog post, we will explore some of the changes that have taken place in the world of remote tech careers and offer tips for making the most of them.
Working From Home is the new normal
Despite the pandemic coming slowly but surely to an end, many people still opt to work from home. WFH arrangements have been surprisingly beneficial for both employers and employees. People have proven to be productive while working from home, and employers see a future in which they are less constrained by office space. In addition, as the pandemic winds down, many barriers to working from home—such as having to homeschool children while also working—will no longer be an issue. With kids back in school, the empty house will be much more conducive as a home office.
Working from home can have many benefits for employees, such as no commute and more flexible hours. According to Bloom's data, employees are even willing to take a 5 percent salary cut in order to work from home two or three days a week. On average, remote employees save $248 per month on things like commuting costs and office snacks, as found in a survey by Owl Labs and Global Workplace Analytics. Additionally, almost half of the employees said they would leave their current company if it did not continue to offer a hybrid work model after the pandemic, says research by Envoy. 
Ups & downs of work schedule flexibility
A flexible work schedule allows employees more freedom to choose when they start and end their work day. This can be beneficial for finding a better work-life balance. However, some drawbacks exist with a flexible schedule.
Pros of Flexible Work Schedules
You can adjust your schedule to meet the needs of your family.
You can make time for self-care.
You can spend time outside of work pursuing personal passions.
You can choose when you are most productive to work.
Cons of Flexible Work Schedules
You may have a harder time arranging meetings with your team.
Increasingly, the boundary between work and life can blur.
It may be difficult for you to find structure at home.
Teamwork can be challenging.
Offices remain but for different purpose
Many companies can reduce the size of their offices when working remotely, but they may choose to not eliminate them completely. The office still plays an important role in people's work, though it is different from what it used to be.
People may come into the office a couple of times a week to work on projects with colleagues. Brainstorming and collaborative planning in person helps get certain types of work done more effectively.
Increased contracting & freelancing
Hayden Brown, CEO of Upwork, told Fortune Magazine reporters that since the COVID-19 crisis started, more freelancers have registered and more businesses have requested workers than ever before. He attributes the increased use of remote employees to specific project-related needs and employers' increased faith in remote workers' effectiveness.
Some companies were already transitioning to leaner workforces, but they've had to accelerate their efforts by necessity. Companies that were hesitant to allow remote working or using contractors for specific projects found that their employees' performance was not affected by remote working (with a few exceptions related to childcare or other responsibilities at home).
Developing New Skills & Adoption of Technology
The majority of the workforce during the pandemic had to learn new skills and acquire new experiences in order to survive. As a result, our population has rapidly adapted to modern technology, and more and more people are able to work effectively from anywhere.
Many businesses have embraced technology in new ways during the pandemic. For instance, after the pandemic, David Auto salesmen in Glen Mills, PA, have been using technology to their advantage to sell more cars. They have been selling online and delivering cars to customers. They have been using phones, text messages, email, and Zoom to communicate with prospective buyers and using FaceTime to join customers on test drives.
Additional Thoughts
COVID-19 has hugely impacted the way we work, and this is especially true for careers in the tech industry. The virtual office has replaced the brick-and-mortar office in many ways, and this trend has changed the way we work. This means that there are now more opportunities than ever before to pursue a career in tech from anywhere in the world.
Whether you're looking to start your own business or find a remote job with a company, there are plenty of options available. So if you're interested in a career in tech, choose RemoteMode for your career pivot. Through the RemoteMode online training program, you can develop the skills you need to make a career jump in the tech industry and have access to industry-leading resources that will help you to be successful in your new careers. Contact a RemoteMode career counselor today to learn how quickly and affordably you can train for your remote work career.
Take the first step to your new remote career!
Welcome Back!
Please enter your email and password to log in: