Pivoting to a Tech Career from a Non-Technical Background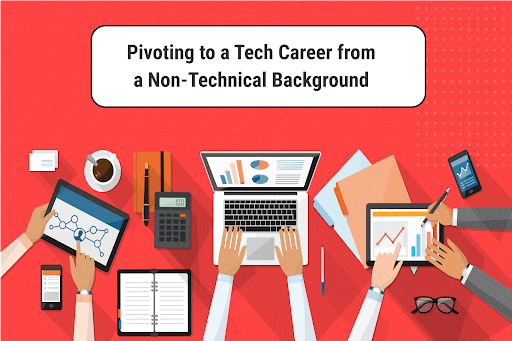 A career in tech can be both challenging and rewarding. For those with the right skills and interests, it can provide an opportunity to use one's talents to make a difference in the world. In recent years, there has been a growing demand for tech professionals across a variety of industries. As a result, many people with non-technical backgrounds are making the transition into tech careers.
Benefits of a Career in Tech
A career in tech offers many benefits that can make it an attractive investment for those in roles adjacent to tech roles or completely removed from them. These include:
First and foremost, it is a rapidly growing industry with many opportunities for advancement. If you're interested in pursuing a career in tech, there's a good chance that you'll be able to find a job that suits your skills and interests. And as technology continues to evolve, there will be even more opportunities for those who are willing to stay ahead of the curve.
Attractive Compensation Structure
In addition to the abundance of job opportunities, a career in tech also offers good pay and benefits. Many tech companies offer competitive salaries and generous benefits packages, which can help to attract and retain top talent. And because the demand for tech workers is so high, many companies are willing to offer sign-on bonuses and other perks to those who are eager to join their team.
Skill Development
Many jobs in tech offer the opportunity to work on cutting-edge projects and to collaborate with other talented professionals. For those who are interested in pursuing a career in tech, the options are endless. From software engineering to web development to data science, there are dozens of exciting fields to explore. With the right mix of hard work and dedication, anyone can find success in the tech industry and develop impactful skills for their careers.
Career Fulfillment
Many remote tech workers find that working in tech as an engineer or project manager allows them to use their skills and knowledge in a way that is personally satisfying. Many companies are at the forefront of innovation, and tech employees are the ones powering it. While a tech career may not be right for everyone, it can be an excellent choice for those who are excited by the prospect of using their skills to make a real difference in the world by building solutions that solve tangible problems.
Challenges of Transitioning from a Non-Technical Background
Anyone looking to transition into a tech career from a non-technical background faces several challenges. Perhaps the most difficult part is acquiring the necessary skills. While there are many resources available for self-learners, such as online courses and tutorials, it can still be a daunting task. Even people with a natural aptitude for technology can find themselves struggling to keep up with the ever-changing landscape.
Another challenge is a lack of experience. Many employers require candidates to have several years of experience in the field before considering them for a position. This situation can be a Catch-22 for job seekers, as it can be difficult to get experience without first landing that initial job to build experience with. In addition, networking can also be difficult for those transitioning into the tech industry. Tech events and meetups can be intimidating if you're not confident in your skills, and it can be hard to find the right connections.
Best Practices in Pivoting to Tech
There is no one-size-fits-all answer when it comes to making a successful career pivot into the tech industry from a non-technical background. However, some best practices can help increase your chances of success. First, assessing your skills and experience is important to identify areas where you may need additional training or education. Once you understand the skills you need to develop, you can create a plan for acquiring those skills through courses, certifications, or other educational programs.
It's also important to network with people in the tech industry and get acquainted with the latest technologies and trends. Getting over the initial anxiety of meeting new people in the industry without the proper background can be intimidating. But with time and practice, you can start developing a natural cadence for growing your network.
In addition, don't be afraid to start at the bottom and work your way up; many tech companies are willing to invest in employees with potential, even if they don't have extensive experience in the field. By starting from a more accessible place in the tech organization, you can make a more successful career pivot into the tech industry— even if you come from a non-technical background.
Making the switch to a tech career can be daunting, but with the right preparation and best practices, it can be an immensely rewarding experience. By understanding the benefits of a remote career in tech and preparing for the challenges you may face along the way, you'll give yourself the best chance for success.
Take the first step to your new remote career!
Welcome Back!
Please enter your email and password to log in: