Tips for Acing a Remote Interview for a Remote Job – Part 1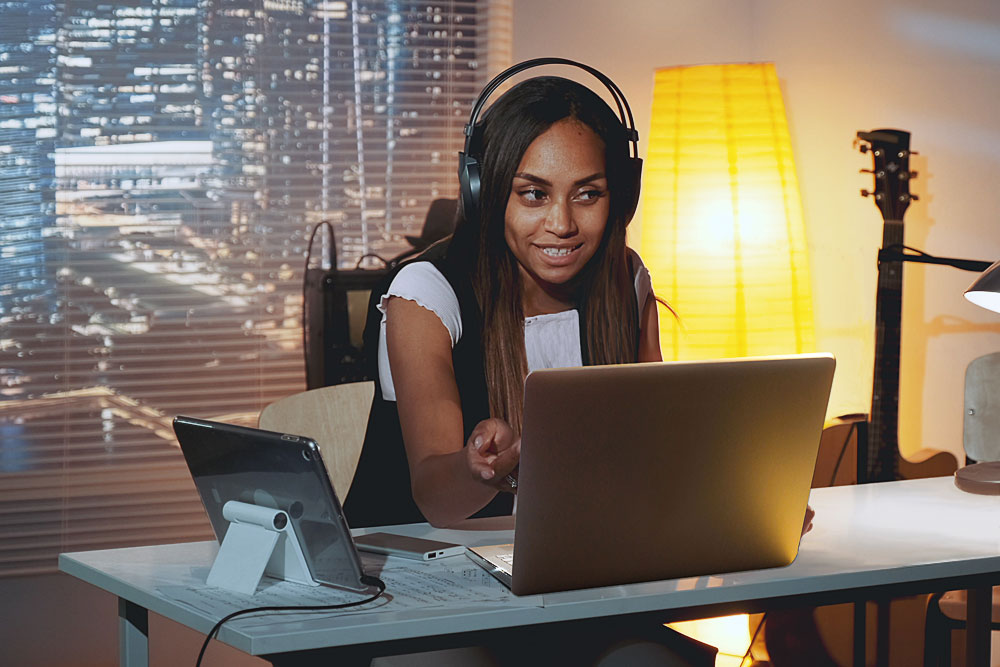 Congratulations! You have completed your training, built your social network, and sent out a professional resume with a polished cover letter. All your preparation has paid off, and now an employer wants to talk to you about an open position. The next step—the interview—is crucial. You want to shine above all the other candidates. Proper preparation for the interview process is the key to success.
This article discusses what you should know about interviewing for a remote job. A later article talks about the best practices for participating in a remote interview. Your dream job is tantalizingly close. Don't let it slip through your grasp by giving a lackluster interview.
Prepare to answer these questions about working remotely
A good employee is a good employee regardless of the circumstances or the geography. Most of the questions employers will ask you about a remote job are the same questions they would ask about an on-site job. Still, working remotely presents unique challenges that may be on the employers' minds. You will do well to prepare to answer questions like the following:

Do you have previous experience working from home? Maybe yes or maybe no, depending on your work history, but completing the RemoteMode online training shows you can learn from home. You have had to address a number of issues in your remote training that are common to remote jobs. Working from home is the next logical step.

Why do you want to work remotely? There are no perfect answers to this question. The key is to be honest. Develop a plan to talk about these typical responses:

Increased productivity – How will you be more productive when you work from home?
More opportunities – Point out that you can work for the best company without having to relocate.
Challenge – Acknowledge that working remotely can be challenging and discuss your willingness to learn to work in a team that is not co-located.

While you should mention these aspects of remote work, focus on why you want to work for the company more than why you want to work remotely.

Though there are no right answers to the question of why you are willing to take an online job, there are definitely some wrong answers to avoid—you want to work in your PJs, the work is easier, you can watch your kids while you work, and you don't like being micromanaged. If you want a short interview and no call-back, just throw one of these into the conversation.

What is your home office setup like? Talk about what you have done to ensure your home office setup makes you productive and reliable.

How will you coordinate with coworkers in getting the job done? If you have had experience with remote coworkers, by all means, tell your story. If not, you can say you are open to new methods. For example, regular online check-ins with your team is a typical strategy. In many ways, remote collaboration is not entirely different from in-person work. Talk about how you have handled collaboration and teamwork in your previous jobs. It's all relevant.

What is the biggest challenge in remote work and how will you deal with it? Meet this question head on. If you haven't thought about it yet, start thinking about it now, because remote work presents several typical obstacles to productivity, such as motivation, distractions, engagement, and technical glitches. Talk about how you plan to handle these problems.

How do you manage your schedule? Bring up strategies that have worked for you in the past, like check-lists, calendars, and to-do lists. Talk about how you stayed on schedule and on task during your online training.

How do you stay motivated without an on-site supervisor? The answer to this question is similar to how you answered the question about coordinating with remote coworkers. The work and resulting success is motivating in and of itself. You proved you didn't need an instructor standing over your shoulder to get your online training done, and you don't need someone watching you constantly to get your work done on the job.

What happens if you are under a tight timeline and the rest of your team is offline? This is a common issue. Typical tactics include notifying your supervisor, doing your best to contact team members, planning in advance with emergency contact procedures, and documenting what is happening.

How will you maintain work/life balance with this remote job? Don't give the impression you will burn yourself out being online 24x7, but don't list every little thing you will do when you are not working. Give a balanced answer.

What special skills does a remote worker need? Responses might include proactive communications, practicing appropriate online etiquette, being self-managed, being a problem-solver, and setting and following priorities.
When you have thought deeply about these questions and developed genuine answers, you will not only be ready for the interview, you will be ready to make a success of your new online career.
How to stand out in an interview
Whether your interview is online or offline, the following suggestions are tried-and-true tactics for making yourself stand out from the crowd of interviewees:
Do your homework. Know about the company and look for opportunities to demonstrate your knowledge during the interview. Double-check the job qualifications for which you applied, note areas where you are strong and areas where you hope to grow.
Be responsive. Talk about how you have solved problems or responded to unusual requests in the past. It's okay if you don't know an answer, but promise to find the answer and respond quickly, preferably the same day and even within an hour if possible.
Show your self-motivation. Talk about tasks and assignments you have given yourself and completed without help. This is a great opportunity to talk about your RemoteMode internship experience.
Be prepared with insightful questions. You might ask such questions as these: What are the employer's expectations for its remote workforce? How do communications work at the company? Across how many time zones are workers spread and how are the time zone differences managed? What is the employer's definition of success for this position? How is onboarding done for remote employees?
Being prepared to discuss the company and the position with meaningful insights and thoughtful questions demonstrate to the employer that you are serious about working for the company. This is more than a job, it's a career. The interviewer can see the professionalism with which you approach the interview and will assume the same attitude will prevail in all you do.
Conclusion
No matter how good your training and how polished your resume, you must come across well in the interview to land the job. The real purpose of the interview is to allow you and the interviewer to get to know each other, so you both can judge if you are the right fit for the job. Wise candidates don't try to outsmart the interviewer. It is not a performance. Preparation helps you think through the process and give yourself the ability to present yourself in the best possible light, but most importantly, preparation enables you to be genuine in your communications. A smart interviewer will see that and respond to it.
A key component in RemoteMode's full-package program is interview preparation. An experienced and skilled coach helps you put together a winning interview strategy that is more than rehearsed lines and memorized answers. With the benefit of your coach's real-world experience, you will be at ease when you approach an interview because you will be able to be authentic and relatable. Learn more about RemoteMode's full retraining program for an online career by contacting a RemoteMode career counselor for more information about how RemoteMode can prepare you for your next career move.
Take the first step to your new remote career!
Welcome Back!
Please enter your email and password to log in: