6 Steps to Break into a Remote Tech Career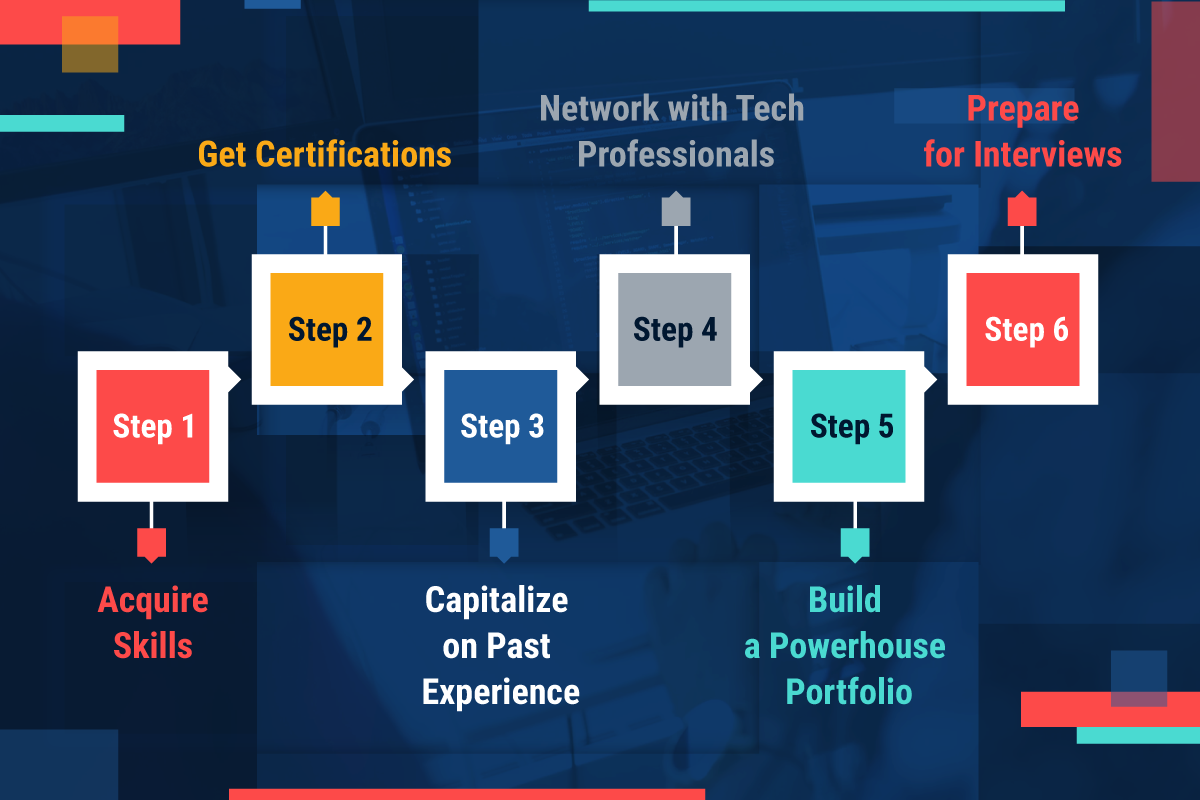 You don't need a Bachelor degree in Computer Science to get a job in the technology sector. You simply need an eagerness to learn. The gap between the number of I/T job openings and the applicants to fill them is enormous. It is definitely a job seeker's market. What's more, tech jobs are trending increasingly to remote work. Many of these jobs can be performed from anywhere you can find an internet connection. If you have the initiative and drive, a desire to make a better life, and the willingness to learn or increase a skill in technology, the door is wide open to you in the tech industry.
Step 1 – Acquire Skills
Don't kid yourself—learning is work. But learning can also be fun, stimulating, and satisfying. Opportunities abound for training, but not all programs are created equal. The good news is that you don't have to attend a brick-n-mortar school and lay out a fortune for a fancy four-year college degree to get the skills you need. A well-designed remote training program includes a curriculum defined by industry experts who know what employers want, professionally produced instruction, a technically flawless delivery system, personal mentors and career coaches, meaningfully challenging projects in which you can immerse yourself, and tools and systems to keep you on track for your goal while interacting and competing with fellow students.
Step 2 – Get Certifications
Industry certifications show future employers that your skills are legitimately up to par. A certification demonstrates your capabilities in the designated area. CompTIA certifications in particular are highly valued because they are recognized worldwide as the benchmark for entry-level knowledge. A CompTIA certificate, such as A+, Security+, Network+, and Cloud+, tells a hiring manager that you are serious about your career and are prepared to meet the demands of the job.
Step 3 – Capitalize on Past Experience
When you examine your previous work and school history, you may think you have nothing in your background to offer a tech employer. That's not true. Tech jobs require tech skills, but they also require the soft skills that make you a valuable employee in any field. Problem-solving, persistence, communications, team work, leadership—these are all essential characteristics of any job, including an I/T job. As a technologist, you won't work in a vacuum. Teamwork and collaboration pervade the I/T industry. You will work with programmers, network engineers, database developers, security specialists, and project managers. You will likely interface with customers, users, and management. Don't downplay your work and life experiences. They are just as valuable to an employer as your technical abilities.
Step 4 – Network with Tech Professionals
You have surely heard the expression,
"It's not what you know, but who you know."
That is a truism that applies as much to remote tech jobs as to any other type of job. The best way to get your resume into the hands of a prospective employer is to have it hand-delivered by one of that employer's employees. To build your network of tech practitioners, begin with a professional-looking profile on social media sites where technologists hang out. Begin with a LinkedIn.com account. Your page should be polished and mature. No pics of your cute dog, and no references to your favorite food. Create a profile that presents you as a serious contender for an  in-demand, highly paid job among fellow professionals. Join groups that appeal to people in your chosen field. Follow the thought-leaders in the tech industry. Reach out and connect with people who work in the companies and industries where you want to work. Chances are, one of the people you connect with knows about a job opening for which you are a perfect fit.
Step 5 – Build a Powerhouse Portfolio
Your CV is simply words, but a portfolio full of successful, meaningful projects is concrete evidence to back up your resume. When you demonstrate your capabilities by showing hiring managers the real work you have done, their subjective opinions of you become highly objective. If you don't already work in a tech field, don't despair. Look for a training program that offers the opportunity to engage in simulation projects that are based on real-life business problems. Dig in and become immersed in the technology and the culture of I/T project work. You can also do side projects on your own. Pick a problem and solve it with technology using your new skills. A well written program, properly designed database, or skillfully implemented security protocol gains the attention and demands the respect of I/T managers, regardless of where or for whom you created your showpiece.
Step 6 – Prepare for Interviews
Interviews for technology jobs are typically a combination of a discussion of your previous experience and an opportunity to demonstrate your skill. As mentioned earlier, don't discount your non-technical experience. Interviewers want to know as much as about how you work with others as how you work with computers. Your training experiences are valid demonstrations of your ability to follow instructions, meet deadlines, and solve problems. Particularly if you are interviewing for a remote job, if your training was done remotely, you can talk about how you handled working in a remote environment. To overcome the nerves associated with interviewing, engage with a friend or colleague who can play the part of the interviewer. Better yet, find a training program that pairs you with an industry professional to be your mentor and help you practice interviewing.
Final Thoughts
A well structured, professional training program is a must if you want to pivot to a remote tech career. You can find sites that offer to teach you how to code for free, but you get what you pay for. RemoteMode's full-service, critically acclaimed training program certainly teaches you marketable skills, but it offers so much more. With RemoteMode, you learn tech skills through a state-of-the art remote platform with a curriculum designed by industry experts and education professionals. RemoteMode's Virtual Lab sets you up for success by providing you with solid, real-world projects to put in your portfolio. Professional career counselors help you build your social media network and polish your CV to catch the eye of hiring managers. A mentor helps you prepare for your first interview with guidance and practice sessions. RemoteMode's goal is not simply to train you but to put you in your dream job and launch you into your new career. Contact a RemoteMode career advisor today to learn how quickly you can be ready to start working in the remote tech industry.
Take the first step to your new remote career!
Welcome Back!
Please enter your email and password to log in: